---
Exocet WindSUP Stand Up Paddle Board 11'8
WindSUP 11'8
Enjoy your 200 litres of volume, but still feel the exhilarating ride of a short board.
The stepped tail design is not just another fashion look, but a technical feature adding obvious advantages due to the extended water line in displacement mode; as well as the reduced wet surface when on the plane.
For a limited time at these discounted prices. With a RRP of $2,500 for the AST and $3,100 for the Custom Bamboo Sandwich, these boards won't last long.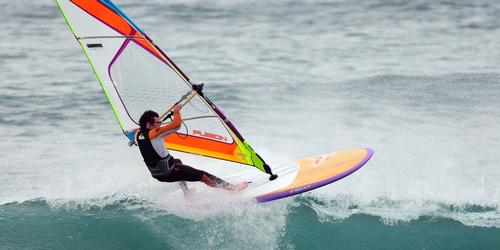 The natural standing position is in the centre of the board and due to the step tail it remains the same even when you catch a wave and accelerate.
A unique quality making it much easier to learn paddling in the waves.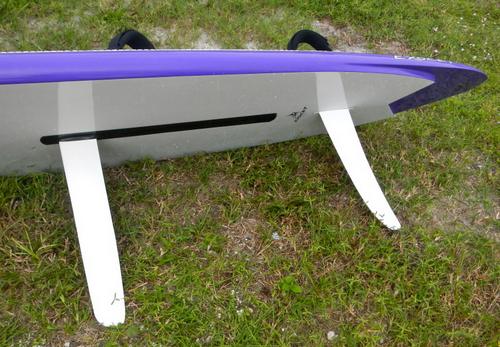 This underside view shows the "step-tail" design, which combines a flat "swallow tail" plaining surface with a longer "pin tail" for smooth gliding and catching waves. (Picture shows removable centre board fully down)
With is length and volume this is a great flat water paddling board when in displacement mode and with the Step tail the board gets shorter on a wave (plaining mode) and very loose (easy to turn).
This is the ultimate "do everything well" board!
Carbon
Windsup 11'8
220 Litres
360cm / 11'8
79 cm
14.6 kgs (+/- 6%)
Exocet 44cm +
Dérive 61cm
Power box
4.5 - 8.0 m2
Specifications

Model
WINDSUP 11'8
Volume
220 litres
Length
360 cm / 11'8"
Width
79 cm / 31.1"
Wood Weight
14.3 kg (+/- 6%)
AST Weight
15.8 kg (+/- 6%)
Fin
44 cm Power box
+ 56 cm Daggerboard
Sail size
4.5 – 8.0 m2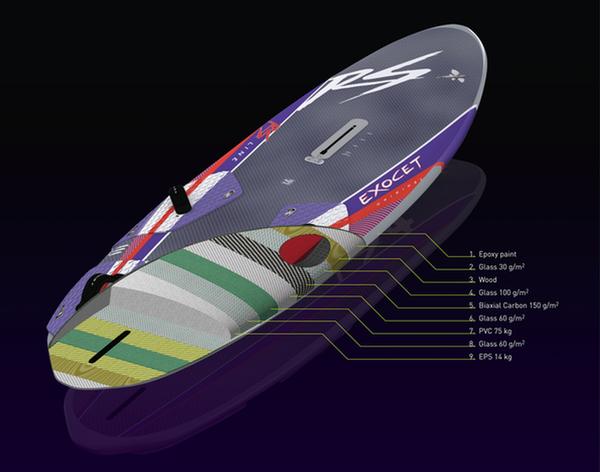 Picture above shows the typical construction of Exocet boards with the different layers and materials
CONSTRUCTION: Wood / AST
We are now offering an extensive line of paddles to compliment our SUP range.
Customer comments:



Recently two of my windsurfing students have purchased the Exocet Wind SUP's



on my recommendation through Charlie at Ride Hatteras.  I knew this would be



a great board for them since they both love to SUP, surf, and are very



anxious to enhance their sailing skills to the point they can get out on the



ocean.  Since they both live here in Eastern North Carolina with quick and



easy access to both the beach and miles of Intercoastal Waterway, salt



marshes, and river systems, opportunities for windsurfing and SUP paddling



abound. Add to that the stability and ease of sailing of the Wind SUP and



IMO it adds up to the perfect board choice for them to start their



windsurfing careers off on. 



 Anyway, over the last couple of weeks I have been able to both SUP and Sail



the Wind SUP that belongs to Bernie Copsey, one of my windsurfing students.



I have been very impressed with it and after a great ocean/wave light wind



sailing session last I really think this is a super all around board! I am also working with



Charlie at Ride Hatteras to get one of my own soon!!
"Overall, what a fantastic do all board. to think, it's been laying fallow in the old Kona line for a few years. glad it was resurrected as it is now. last Saturday, I had one of the better times riding head high and smaller waves all afternoon in 8-16 mph side on winds. fantastic fun.

will it aerial like my favorite 11'5 pic? doubt it, but it sure makes wave sailing even easier. stupid easy at that."
"First time out on the Exocet Windsup, (AST version) waist-high Lake Michigan swell/chop, 20mph side onshore conditions, Eazy 6.9 Wave Tiger.

This board is everything John said.

The Windsup powered upwind through the swell very smoothly, like a luxury car with a big torquey V-8 motor.
The board's ample nose seemed to love pounding the swell and pointed upwind nicely, with or without the daggerboard down, albeit higher with it down.

Reaching back toward shore with the swells, the board really came to life, smoothly accelerating up on plane with virtually no effort and remaining responsive and eager to turn, yet stable under my 215lbs. In short, this board made me look very good in conditions that previously would have been difficult for me to handle with my modest skill set.

Tacking and jibing on the Windsup is a snap. I found taking an extra micro step forward during tacks helped me on this day, the nose is very floaty and forgiving.

The daggerboard operates smoothly and is super easy to kick up and down. Prior to hitting the water I sprayed the gasket area and other contact points with a generous coating of McLube and worked the dagger by hand a dozen or so times.
The Allgaier dagger system chosen for this board is the right choice in my opinion, it performs well enough and is so easy to operate."

"teach, paddle, cruise, BAF, open class race and wave sail on it. what's not to like? my guess is the wind SUP will out do lotsa other long boards in lotsa ways."
"I got to sail John's demo version of the WindSUP, wood version, this Saturday in 20-25 gusty choppy winds on the Banana River, FL. I am 205lbs and was using a 6.2 cranked down to make it feel like a 5.2-5.5. All I can say is wow! This thing planed so easy and was so much fun in the straps. It is big so it plowed right thru the chop and my very first run was about 2 miles down and 2 miles back completely powered, comfortable, and grinning ear to ear. On the way back to my launch site, I was "riding" the 1-2 foot wind chop like a wave and having a blast. It was so easy. I didn't get to paddle it in the chop but I see it being a very easy flat water/small wave/teaching SUP. I think this thing is the perfect "1 board" quiver for SUP, plaining/non-plaining fun, and teaching family and friends. I envision this being my "Keys trip" board for the family on long weekend trips to Florida Keys with one board that can do everything pretty darn well.

I immediately put my Kona 11-5 and Starboard SUP board up for sail and have ordered a WindSUP from Sandy Point. I'm going to pick it up Saturday"
Below is a link for the matching board bag for this board (We recommend MIX - XXL).
(Note that the 10' WINDSUP goes with the 'Exocet Board Bag SUP - S', and the 11'8 goes with the 'Exocet Board Bag MIX - XXL')