---
Exocet WindSUP 10' Stand Up Paddle Board
WindSUP 10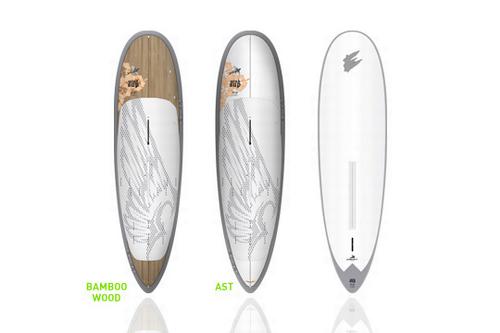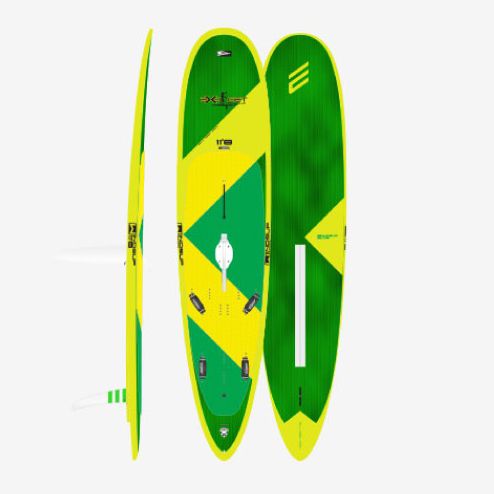 This is Exocet's do it all board, following the design they used to develop the original Kona. They have given it a stepped tail which gives it the glide of a long board in light winds but with the speed and control of a short board as soon as you are on the plane (which happens very early due to its large surface area). The wind-sup also comes with a centreboard giving you the security of knowing you can get home with ease even if the wind is blowing off-shore. These features combine to give you the best do it all board on the market the ideal choice for a one board quiver.
For a limited time at these discounted prices below. See our great prices
With a RRP of $2,500 for the AST and $3,100 for the Custom Bamboo Sandwich, the Carbon RRP $4100, these boards won't last long.
Be quick to secure yours now.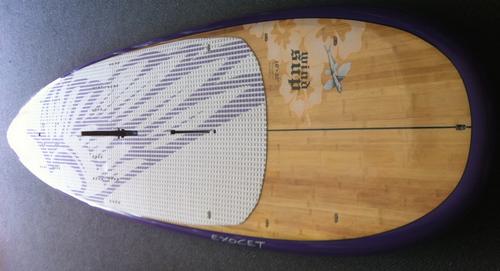 Picture showing bamboo deck and gear attachment points
The wind-sup is a very competent paddle board, its stepped tail gives it great turning ability in the waves if you want to catch some surf, but if that's not your thing it has attachment points for gear and bags for long distance missions and down-winders.

Picture showing the stepped tail
The Windsup 10' is the shorter version of the highly acclaimed original Windsup (11'8"). It is set up more like a "short" early planning board than the original 11'8 which is your traditional Long Board. So its nice and wide and loose on a wave.
The 11'8 is better for Flat water paddleing. Customer review below:
"I just got back from a week at the beach with the extended family, which included 6 adults and 4 boys between 9 and 12. I had the Windsup, a paddle, and a 2.5m kids rig, as well as my 7.1m2 custom SFME Rig.
The Windsup was great as a paddle board for both adults and kids. Everyone paddled it and enjoyed it in the flat eastury water.
3 of the 4 boys tried windsurfing with it and it worked really well. We had the luxury of a large expanse of thigh to waist deep water which made everything much easier. All of them managed to sail it to some extent and turn around.
I had one good powered up session. I found my previous mast position at the front of the track gave too bumpy a ride, so I moved it to centre and it was much better. It rides much more like a shortboard, (planing length is 2.7m), so with the right technique, it did not continue to want to go up wind.
It is earlier on the plane, and faster once on the plane than the Kona. It is the Swiss army knife of cross-over boards."
• Ideal SUP and Windsurf as a beginners, intermediate and advanced, approach in the waves
• Ideal SUP cruising and Freeride windsurf
• Idea foiling (compatible tuttle box foil on Windsup 10')

The Exocet Windsurp range concentrates a multitude of practices in a longboard spirit. With the Windsups, you can sail in windsurfing, on flat water, go surfing, flat water or surf in stand up paddle. Versatility par excellence!
Easy learning Windsurf and SUP
• Fit to all body weight
• Rail and deck plan optimized for Windsurf & SUP
• Easy to learn foiling (Windsup 10')
AST
Volume

Length

Width

Weight

Fins

Box

Tailles de voile

Windsup 10'

175 Litres

305cm / 10'

81.2 cm

15.5 kgs (+/- 6%)

Exocet 40cm +
Dérive 61cm

deep tuttle Foil box

4.5 - 8.0 m2
Bamboo
Volume
Length
Width
Weight
Fins
Box
Tailles de voile
Windsup 10'
175 Litres
305cm / 10'
81.2 cm
14.5 kgs (+/- 6%)
Exocet 40cm +
Dérive 61cm
deep tuttle Foil box
4.5 - 8.0 m2
Carbon
Volume
Length
Width
Weight
Fins
Box
Tailles de voile
Windsup 10'
175 Litres
305cm / 10'
81.2 cm
13.5 kgs (+/- 6%)
Exocet 40cm +
Dérive 61cm
deep tuttle Foil box
4.5 - 8.0 m2
• Carry handle
• 1 CNC G10 center fin
• Leach plug • 3/4 deck pad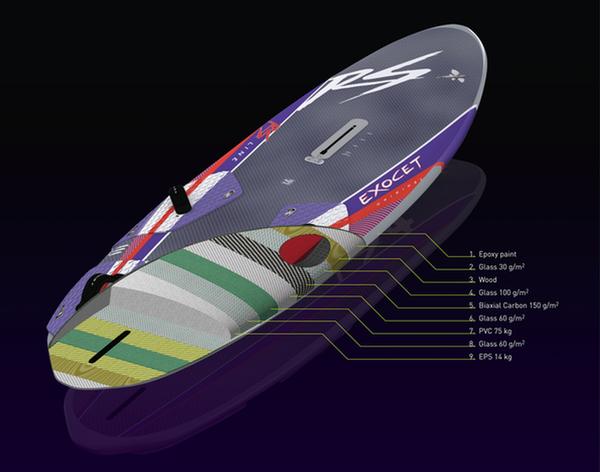 Picture above shows the typical construction of Exocet boards with the different layers and materials
Click the drop down menu to see all the colours and construction types available.
We are now offering an extensive line of paddles to compliment our SUP range.
Below is a link for the matching board bag for this board (We recommend SUP - S).
(Note that the 10' WINDSUP goes with the 'Exocet Board Bag SUP - S', and the 11'8 WINDSUP goes with the 'Exocet Board Bag MIX - XXL'
)