---
Have a look at our fantastic prices through the whole range of sizes - our prices are way below RRP
The NANO board line offers the best options available in terms of price versus performance.
Exocet have extended the NANO line utilising former moulds that were used to produce boards from previous years, to develop this board line while reducing the price.
The Nano range is composed of shapes developed to bring the most pleasure to the greatest number. Ideal in flat water freeride conditions.

Accessible windsurf boards for all levels in solid construction.

Proposed at the best value for money, they accompany the riders for their initiation and throughout their progression.

The 155D is equipped with a retractable daggerboard to bring even more versatility to the classic 155.
The 2019 NANO board line offers boards for all conditions and abilities; including waves, freeride, and we have also included a version with a daggerboard.
The Nano 155 now also comes with a daggerboard as "Nano 155D", which is a great alternative for lighter beginner sailors.
Construction
Molded, AST One shot.
• Fiberglass & matt fiber construction recovered with ASA skin on deck and bottom
Features
Thin rails for ultimate maneuverability.
Super comfortable footstraps.
ASA construction : Max durability at minimum cost.

SPECIFICATIONS 2019
MODEL

NANO 125

NANO 135

NANO 155

NANO 155 D

NANO 175

NANO 205

VOLUME
125 litres
135 litres
155 litres
155 litres
175 litres
205 litres
LENGTH
250 cm
250 cm
255 cm
255 cm
280 cm
300 cm
WIDTH
67 cm
78 cm
77 cm
77 cm
75 cm
80 cm
WEIGHT
8.7 kg (+/-6%)
9.7 kg (+/-6%)
10.2 kg (+/-6%)
10.2 kg (+/-6%)
12.0 kg (+/-6%)
14.4 kg (+/-6%)
FIN
Exocet Freeride
40 cm Power Box
Exocet Freeride
46 cm Power Box
Exocet Freeride
50 cm Power Box
Cruiser 34 cm
Plastic Fin Power box +
Allgaier Daggerboard
Cruiser 34 cm
Plastic Fin Power box +
Allgaier Daggerboard
Cruiser 34 cm
Plastic Fin Power box +
Allgaier Daggerboard
SAIL
4.5 – 8.0 m2
5.0 – 9.0 m2
5.0 – 9.0 m2
1.5 – 9.0 m2
1.5 – 9.0 m2
1.5 – 9.0 m2
MODEL
NANO 125 Twinser
NANO 135 Twinser
NANO 155 Twinser
VOLUME
125 litres
135 litres
155 litres
LENGTH
250 cm
250 cm
255 cm
WIDTH
67 cm
78 cm
77 cm
WEIGHT
8.7 kg (+/-6%)
9.7 kg (+/-6%)
10.2 kg (+/-6%)
FIN
Exocet Freeride
2 x 28 cm Power Box
Exocet Freeride
2 x 32 cm Power Box
Exocet Freeride
2 x 36 cm Power Box
SAIL
4.5 – 8.0 m2
5.0 – 9.0 m2
5.0 – 9.0 m2
Below is a link for the matching board bag for these boards (We recommend MIX - XS for the 75 and 85, MIX - S for the 95 and 105, MIX - M for the 115 and 125, MIX - L for the 135 and 155, MIX - XL for the 175, and MIX - XXL for the 205).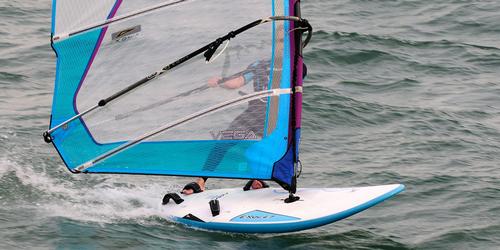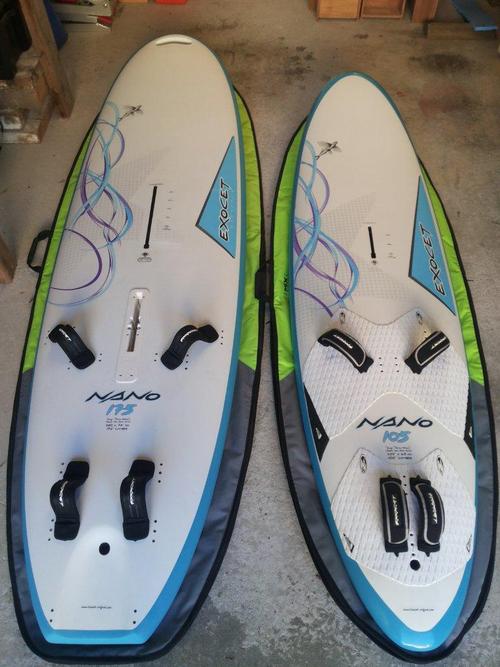 The Nano 175 and 105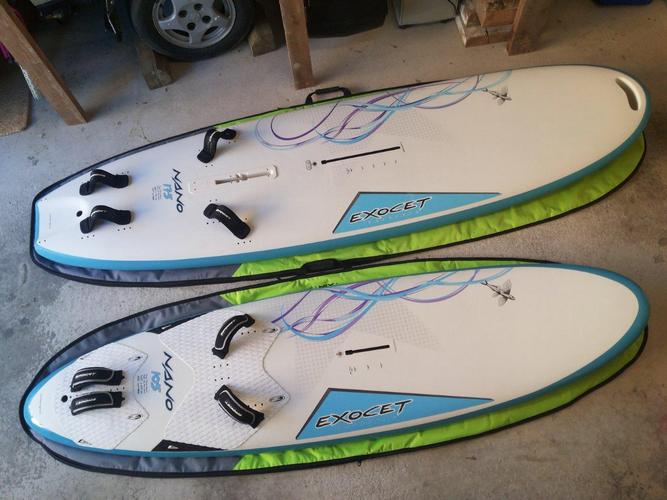 Review:
In an effort to keep costs at a sensible level, board manufacturers have been looking at all sorts of options. You will notice that many brands are now offering two year product cycles, cheaper construction options, different distribution methods and many other ways of keeping costs at check. These have all played their part, but have been unable to compensate for the natural increase in raw costs that have occurred over the past few years.
So, what about this for an idea… Why not build one uncomplicated line of boards to span all the way from a 75 litre wave board, through freewave and freeride shapes right up to a 205 litre lightwind/ beginner board with a daggerboard? To keep costs down, why not build this range in an economical construction, not go overboard on the fittings, avoid the annual redesign process and (here's the clever bit), lets build the line out of the moulds from last year's performance ranges to keep the costs right down. Sounds like a good idea right?
Well, that's exactly what Exocet have done with their new Nano range. It's a one-line does it all range, pitched at an economical price. In fact, it's an incredibly economical price at just £699 for all but the largest two models.
In a time when even the best price point freeride models struggle to sneak under £1000, this is a staggering price for a new windsurfing board. We decided to get our hands on one to see if the performance would stack up to the price tag.
I'm going to confess now that I really wanted this to be a good board. I think the concept is great and what windsurfing needs now more than ever is a way of rejuvenating the lower end of the market. The top and middle ends of the market are taken care of fantastically well, but with the escalating prices, it's been running further away from what a lot of people can afford. The bottom end of the market has really been missing in action since Bic Sport dipped out of the limelight.
Exocet Nano - The full line up
Exocet supplied us with three models; 105, 115 and 135; but we only had opportunity to test the 115 on the water. First impressions of the boards quality are good. The finish looks on par with much higher priced boards. The weight is respectable. At 8.6kg (measured) it isn't going to break any records, but it certainly won't break your back either and is very much on par with boards more usually found around the £1000 price point. The deck pads are also surprisingly good with a dual density cushioning giving a really soft ride. The footstraps are pretty dreadful, but they work and with the saving you make on the purchase, you can do yourself a favour and upgrade them! The fin is budget, but suited to the nature of the board and works perfectly well – you would have to be pretty enthusiastic to justify upgrading the fin.
On the water, I'm very pleased to report that the performance is well worthy of the concept and the price tag. This is a freeride board in the true sense of the word; it's simple and fun to sail blending a nice mix of straight-line performance with manoeuvrability. It won't catch Antoine Albeau on a speed course and it won't out-manoeuvre Philip Koster in Pozo, but who cares?! The world of windsurfing has got far too techy and this board is all about escaping that and going about the simple business of enjoying yourself on a brand new board that you didn't have to rob the bank to afford.
Exocet Nano. Image credit Craig Hamilton.
The 115 we sailed is from the same mould as the previous Exocet Sting. It's therefore quite a blasting orientated shape; straight sided with a fairly rounded nose profile. It planes relatively easily and the larger fin helps compensate for the higher hull weight. The width of the board provides good progress upwind and gives stability downwind, albeit the wider nose being a little catchy when headed right off the wind in larger (waist high plus) chop. Gybing is easy and very forgiving – two words which in fact sum up this board pretty nicely…easy and forgiving. Exocet have a knack of engineering comfort and ease of use into their designs and the Nano is no exception.
There are of course limits to the performance. But when you start to outgrow the board, you will be more willing to pay the extra money for real top end performance. For the time being, the Nano should suit most freeriders needs. It may not be strictly 'free' riding but it's about as close as you can get in windsurfing at the moment!