---
Exocet SCross Carbon
SCross
RRP for the SCross Carbon from $1949
Secure yours now at our fantastic price!
EASY TO CONTROL AT ALL SPEEDS Windsurf Board
High end carbon construction and a new CNC fin boosts the horse power on the Scross Carbon line.
While remaining extremely easy to control the Scross Carbon will reach it's top speed very quickly due to it's light weight and the new recess detail around the fin which helps to minimize drag at all speeds. The Scross Carbon remains comfortable while providing excellent performance.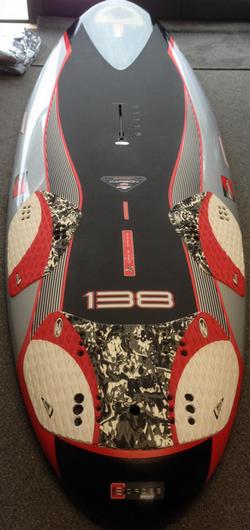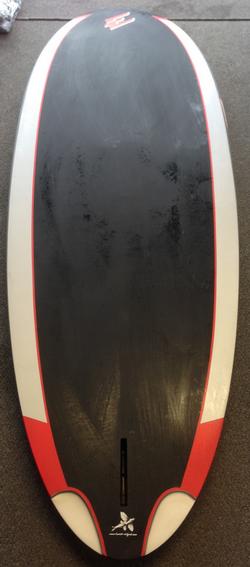 FEATURES
DDSA: Double Density Shock Absorber

E.U.R: Exocet Unique Ride

QC: Quality Construction
The S-CROSS line replaces the STING. The S-CROSS line offers a very different ride to that of the Sting, due to it's narrower tail and nose design.
This new shape gives the boards a smooth ride while also enabling them to turn effortlessly in any conditions. Top speed and early planing is also excellent with the reduced rockerline of the board, making it easier for freerider's of all levels.
The Pro-model board is offered with an exclusive carbon construction and is extremely light for a board in this class.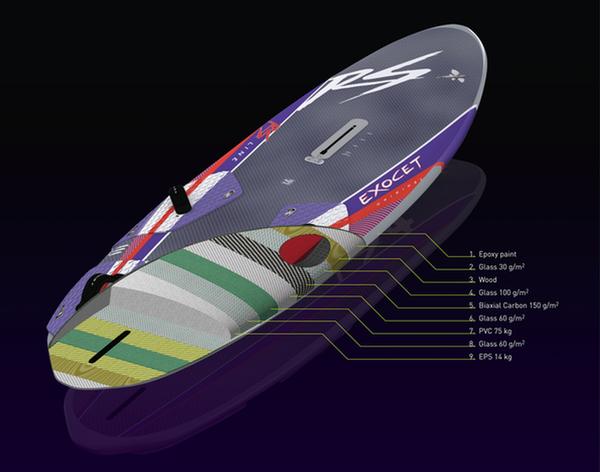 Picture above shows the typical construction of Exocet boards with the different layers and materials
Construction
SPECIFICATIONS

| | | | | |
| --- | --- | --- | --- | --- |
| Model | S-CROSS 106 | S-CROSS 116 | S-CROSS 126 | S-CROSS 138 |
| Volume | 106 litres | 116 litres | 126 litres | 138 litres |
| Length | 239 cm | 242 cm | 245 cm | 250 cm |
| Width | 65 cm | 68 cm | 73 cm | 78 cm |
| Weight | 6.5 kg (+/-6%) | 6.9 kg (+/-6%) | 7.2 kg (+/-6%) | 8.3 kg (+/-6%) |
| Fin | Exocet S-cross 36 cm Power | Exocet S-cross 40 cm Power | Exocet S-cross 44 cm Power | Exocet S-cross 46 cm Power |
| Sail size | 4.2 – 7.5 m2 | 4.5 – 8.0 m2 | 5.0 – 8.5 m2 | 5.7 – 9.0 m2 |
Below is a link for the matching board bag for these boards (We recommend MIX - M for the 106 and 116, and MIX - L for the 126 and 138)