---
The design goal for the Vayu V2c is a stable, high performance wing with a wide wind range, neutral balance and uncompromised ease of use.
The V2 is the next level in the Vayu evolution and includes:
Windows for improved visibility.
Marked handles for easier hand positioning.
RIGID STRUT FRAME DESIGN with high canopy tension for exceptional wind range, upwind performance, speed and air-time.
Single point inflation system with large diameter inlet/outlet hose for rapid inflation and deflation. Bayonet style inflation valve compatible with most pumps. No adapter needed.
Two middle strut Inflation hoses on each side of the middle strut provide a high rate of airflow for quicker setup and deflation. The two connections also hold the bladder in place preventing failure when inflating.
The Vayu V2c is a moderate aspect, truncated elliptical planform determined by the square area with a limited wingspan to avoid potential tip-to-water contact. Low entry, highly efficient moderate draft-aft custom profiles are blended to create a low drag, high speed forward drive. Sweep, dihedral and lift distribution are precisely combined for neutral handling and balance.
The inflatable tubes for each size are sculpted to match the span-wise lift distribution without excess weight and drag and the canopy is pre-loaded to stabilize the profiles and preserve shape. The wingtips have a specific designed flexibility and built- in washout to reduce the pitching moment for smooth, controllable response over a wide velocity and sheeting range.
The most special feature of the VVING V2 is the Bridge-Boom strut system. A foldable boom, which requires no additional tools and is automatically brought into position when inflated. The Bridge-Boom provides a wide range of hand positions enabling intuitive transitions and precise direct control while trimming the wing.
Over or underpowered, the VVING handles any gust and generates considerable forward speed.
Being balanced and reactive with sweep and dihedral, the VVING is very tow friendly when riding waves. Whether your focus is riding open ocean waves, carving or freestyle tricks, the VVING does it all.
https://www.youtube.com/watch?v=w4Wop3U5e9U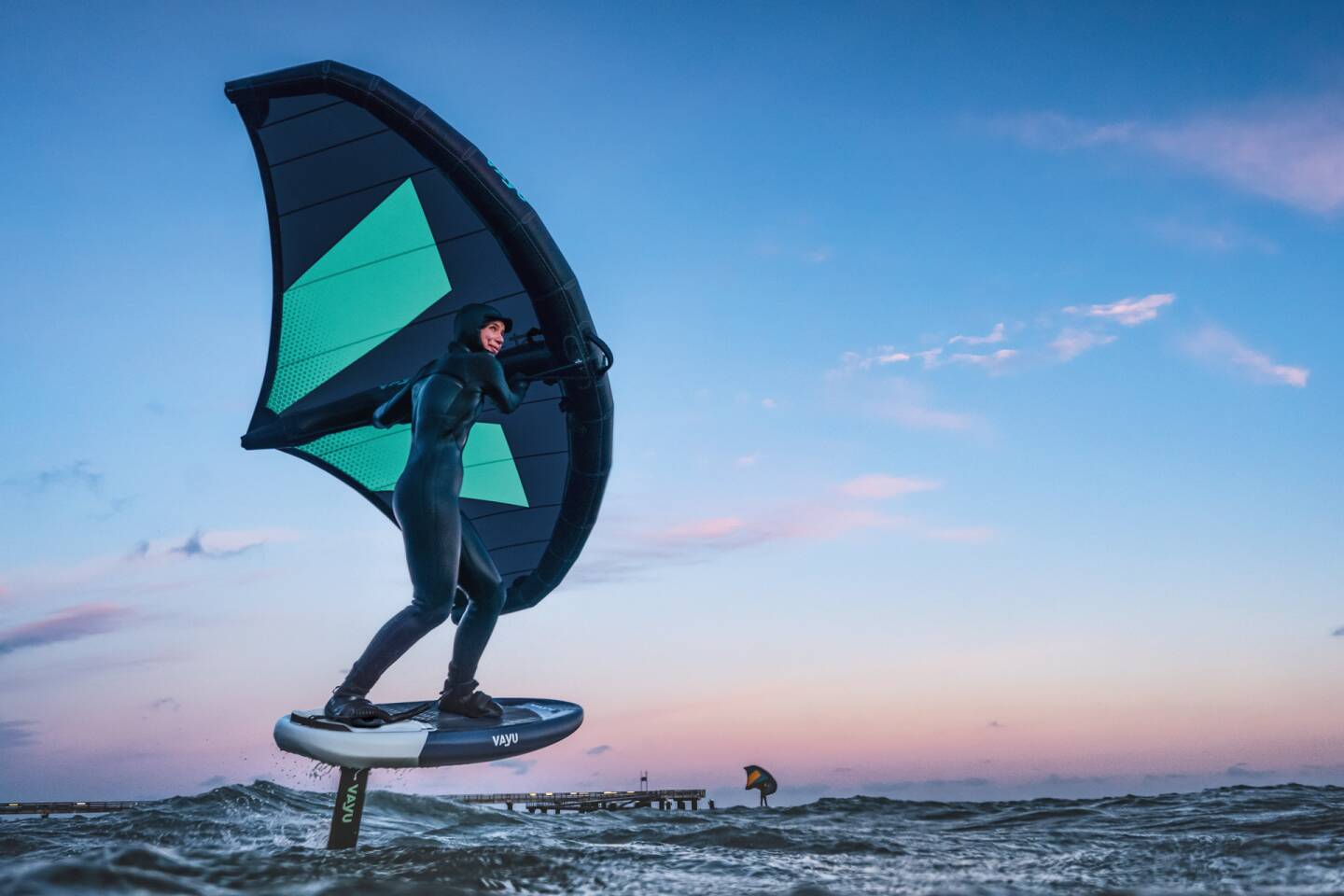 The Vayu Bridge-Boom Strut is designed to provide ultimate structural stability with precise, direct handling over a variety of hand positions. The bridge structure is engineered to secure the profile shape and effectively supports the inflatable strut from distortion.
Pumping to accelerate and control inputs are quick and efficient avoiding the indirect feel of conventional handles which can move laterally and up and down.
The Bridge-Boom Strut provides the advantages of a full-length boom while enabling simplicity of set up and compact storage

The Vayu Bridge-Boom Strut is designed to provide ultimate structural stability with precise, direct handling over a variety of hand positions.
Have all the advantages of a boom without all of the problems of loosing it or being able carry it easily in a small space.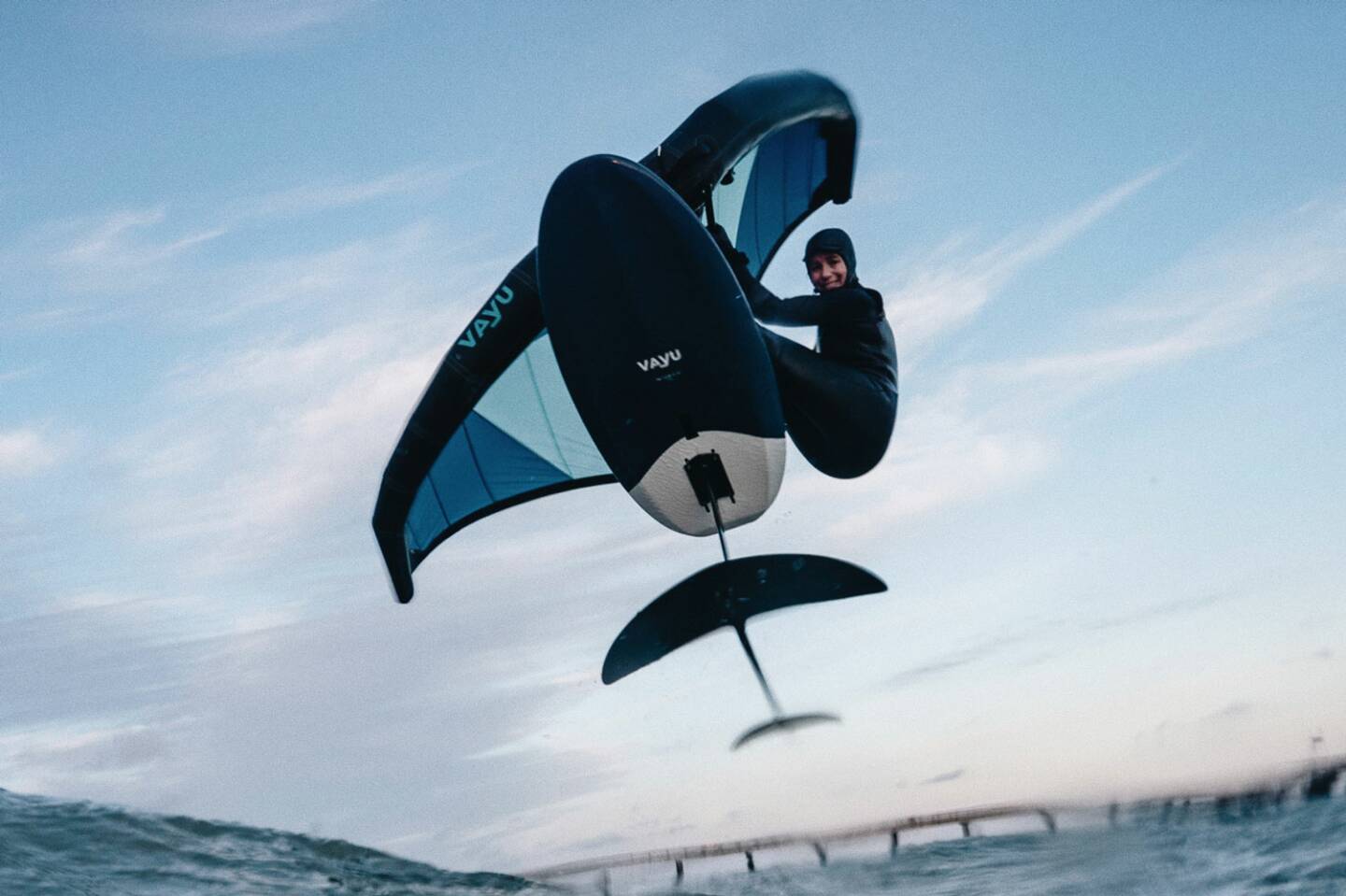 Latest Review of V1 from a great Customer
Day 1 of level 3 in Auckland. First chance to try the Vayu wing in NZ. Review below:
Review of the 4.4M Vving from Vayu
by Andrew and Natalie Wilson
22 September, 2021
First day at Level Three for Auckland and it was pretty much a sprint to Orewa Beach with our kit this morning. Then of course once we had our kit ready and wetsuits on - the wind died. But not for long.
Natalie launched first and I started out minutes later on my 7M Duotone Echo, and my new Axis ART 999, the wind was a gusty Northerly of 3-12 knots, averaging 8 knots at the shore. After a great session lasting an hour or so I came in to change down wing size. It was now averaging 13knots so I took the 6M Smik my wife had been riding and did another 30 minutes on the ART999. She meanwhile took out a demo 4.4M Vayu wing, kindly supplied for review by Mike from NZ Sailing. Natalie looked to be very happy on the Vayu which she later confirmed.
So then it was my turn and I got permission to try the 4.4M Vayu on Natalie's board with "her" 1300 - since if anything the wind had dropped again. As I foiled away the word that sprang to mind was "easy". This combination took no effort to get on foil. A German brand, named after the Hindu God of wind, Vayu is a latecomer to the Wing scene but that isn't obvious from the maturity of their product concept – an inflatable center strut with a two piece boom and a tight canopy and well designed frame.
The Vayu has that typical taught feel of a boom wing (I use a 6.5M Duotone Slick and a 7M Duotone Echo in light winds). But if anything with its very tight canopy it was stiffer than these, indeed stiffer than anything I have yet tried. The two piece boom is as stiff as a one piece, so no problems there. Just to be clear, stiffer is definitely better!
It is great to be able to fly the wing one handed (a real advantage of boom wings) and I had heaps of fun surfing the tiny bumps. When towing it from the front handle while gliding, it behaved impeccably, don't take my word for it though – look at this excellent video of James Casey at play on better waves here:
So who is this wing aimed at?
Anyone wanting to give a boomed wing a try. Yes it is a bit heavier than a non boom wing, but you only notice this when the wind drops to nothing when out in really gusty conditions. With the inflatable center strut there is no risk of the trailing edge sinking as there was with the original Duotone wings and even the 2nd generation Echo. There are no windows but it is hard to make these useful without making them big, heavy, and fragile and without compromising the canopy shape and tension. It was no trouble to lift the wing from time to time to keep a look out anyway.
So to summarize:
• A powerful wing for its stated size (the 4.4M Vayu has a similar pull to our 5M Smik
• A user friendly wing for any level of wing-foiler
• Construction looks good and solid
• Very taught feel, great for pumping and for close hauling to windward.
• Impressive behavior when towing behind you one handed when on a wave
• Packs up as well as a non-boom wing (center strut folds in half between the two boom sections)
• I have no reservations in recommending it to anyone
• Don't wait - all brands of wing are in short supply worldwide
Craig

Picked up this wing a few weeks ago and it's awesome. Amazing range, I am regularly on my 4.4 while others are on 5.0+, but it remains controlled as the winds get stronger. Love the boom, makes for one very rigid wing and gives direct handling. Highly recommended.


Leave a Review