---
Rooster Lycra Top Long Sleeve
RLT
These long sleeve lycra tops come in three different colours and are described as the best Lycra Tops in the World.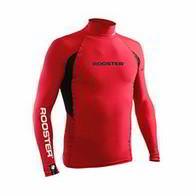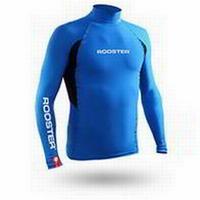 Rooster Rash Vest Red & Blue
For the red and blue lycra tops see the new Rooster Rash Vest RRV
These have a UV protection SPF40.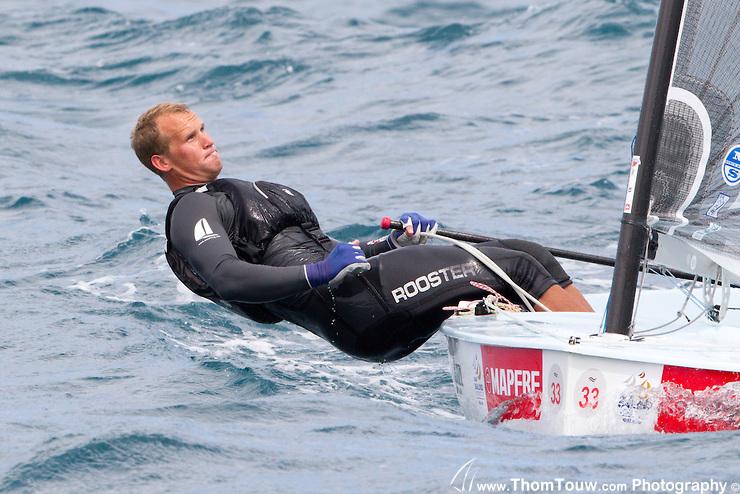 Josh Juniour wearing a Rooster Long Sleeve Lycra Top and other Rooster gear when he won a bronze medal.

These fashionable tops can either been worn under neoprene tops as a rash guard or on their own as a cool UV protection layer.

We recommend hand washing these tops in warm soapy water and allowing to air dry on a hanger.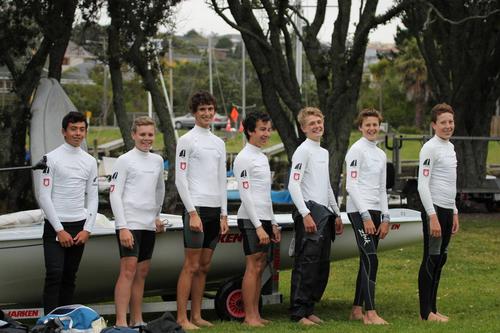 Westlake Boys Sailing Team wearing there team Lycra Tops in AUS
3XS
2XS
XS
S
M
L
XL
2XL
3XL
Height
cm
141
4'7"
153
5'0"
158-163
5'2"-5'4"
163-170
5'4"-5'7"
170-178
5'7"-5'10"
178-186
5'10"-6'1"
186-188
6'1"-6'2"
188-191
6'2"-6'3"
188-193
6'2"-6'4"
in
Chest
cm
71-76
28"-30"
76-85
30"-33"
85-92
33"-36"
92-97
36"-38"
97-102
38"-40"
102-109
41"-43"
109-119
43"-46"
119-125
46"-49"
125-132
49"-52"
in
Waist
cm
-
-
71-76
28"-30"
74-76
29"-30"
79-84
31"-33"
87-94
34"-37"
97-102
38"-40"
104-109
41"-43"
112-115
44"-45"
Average Customer Review:
3 Reviews
Brilliant top!, 1.31.2011
Reviewer: Jake Beach (Totton, Southampton, Hampshire)

This top is amazing! thumb loops are a great idea top stop it rising up your arm. Just make sure you don't catch it on any velcro.
---
Excellent For Rowing, 12.5.2009
Reviewer: Lloyd Tredell (Bretforton, Nr Evesham, Worcestershire)

I bought this top as a base layer for rowing, it has became the basis of my kit providing different advantages in all weather conditions. Keeping me cool in summer, and a great base layer for racing in winter (a great alternative to skins), fantastic fit, great sleeve length and the real bonus is the high neck. This has become my favourite piece of kit. Yasmin Tredell (GB Rower)
amazing value, 6.23.2009
Reviewer: gay dunne (wexford, A2 - Southern Ireland)

excellent value and supior quality too those which are sold locally.
Item Reviews
Kim Moss
The Rooster Lycra top is fantastic in the summer on a scorching day. It also looks really flash when it is worn over your mid or base layers. Amazing fit and comfortable to wear.
Rob Martin
Having abused my skin for years with sailing and UV exposure, I now have great peace of mind wearing both the top and leggings in the summer as I am totally protected. Very comfortable and cooling in the summer sun.
Henry Haslett
these are so good - just perfect as a base layer or as a final layer in warmer conditions- they were so much wanted at the World Optimist Champs in Italy by the other sailors I should have had 10 more
David brown
I was wearing this rooter uv lycra top wild kayak fishing in china and find it very doog in hot climates
Jordan Stevenson
Excellent. I have worn this almost every time I have been sailing, it does the job well and I can wear it as a base layer or by itself.