---
Point 7 K100% SDM Mast
P7 K100 SDM
Why this mast?
No compromise in its performance. Racing, best reflex and light weight.

If you choose this mast it's because you want to dominate in speed and acceleration. Some extra care is needed as the mast only has a minimal protection, giving the carbon the best performance possible.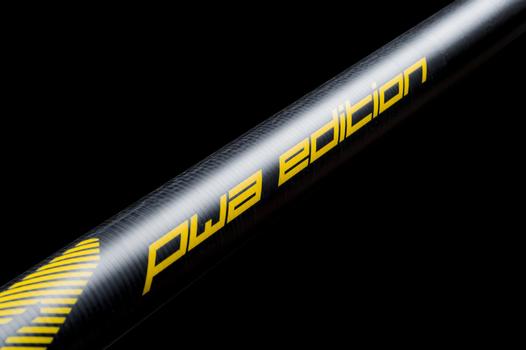 RRP OUR PRICE
400 $1180 $829
430 $1215 $859
460 $1230 $879
490 $1299 $939
Ideal for: AC-1, AC-K, AC-X.
Yearly breakage statistics: <3%.
Production: Italy.
Details: The best possible performance for your sail. Great pumping response, acceleration, light feel and absorption of the hardest conditions for optimal comfort and control.A 100% carbon content and produced to the exact Point-7 standards for bend-curve and hardness. The high carbon content of the C-100+ will guarantee the best possible performance from your sail. The C-100+ offers the fastest reflex and responsiveness of any of our masts thus also improving the performance of your rig.
Construction & performance of the standard diameter mast: The sdm C100+ is constructed using a third extra layer of carbon in the top section of the mast. This is meant to accelerate the reflex of the upper leach of the sail and supply extra acceleration and speed to the entire rig. As the gusts hits the sail, the mast will help convert this power into speed and keep the sail lighter whilst maintaining full control. 2 unidirectional glass reinforcement sections are added to the mast to make sure that even in harsh conditions the mast is protected against breakage. Main structure consists of 3 layers of carbon material.
Model
I M C S
Weight
Carbon %
At Point-7 each length mast is individually developed according to its size and estimated wind range. The reason for this development being that the qualities you seek in a large 9m slalom sail are very different from the qualities and performance characteristics from a 5m slalom sail which is used in strong wind. The result is a change in curve and stiffness according to length. This specific development guarantees that the user will always have a mast that delivers the outmost performance in its specific range. No matter your level of windsurfing, this development translates into performance for everyone.
370
17
1.07
100
400
19
1.16
100
430
21
1.46
100
460
25
1.75
100
490
29
1.95
100
520
32
2.05
100
550
34.5
2.36
100
580
38
2.49
100