---
GUL Viper Mens 5/3mm Chest Zip Steamer - Great Value!
VR1222
GUL Viper 5/3mm Chest Zip Steamer
Warmest 5/3 wetsuit we have ever had. Buy now at a great price!
Introducing BOLT DRY - Guls new and exclusive fastest drying neoprene yet.
The ultra quick dry core wicks water away from the skin creating a cushion of air between the body and suit, giving ultimate insulation and warmth. Some surfers come out of the water and are still dry in their chest and back area's. Read below review's from Kiwi Surfers, Kiters and Windsurfers.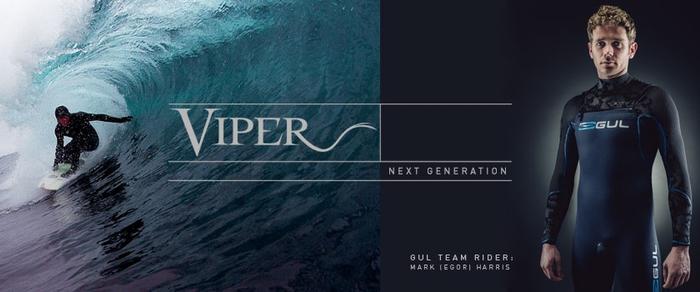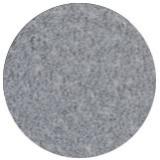 BOLT DRY FABRIC
Now features BOLTDRY and X-FLEX super stretch neoprene on the main body panels gives an incredible 100% plus stretch making the Viper the perfect high performance suit.
Blind stitch with new thinner NEONSEAM liquid seam technology provide 100% water seal keeping the winter chill out.
FEATURES:
BOLT DRY: Quick dry core wicks water away from the skin creating a cushion of air between the skin and the suit creating ultimate insulation and warmth.
QUADRATE Horizontal chest zip entry for maximum flexibility
Blindstitch and external liquid seams for 100% water seal, flexibility and warmth
NEONSEAM: 4mm super thin external liquid seams for 100% water seal, flexibility and warmth
X-Flex: 150% super-stretch main body panels for flexibility and freedom of movement
G-Flex: 100% stretch lower leg and seat panels increase durability and control water flush
Non-petroleum based neoprene
Thermospan tri-ply core: Ultimate insulating core body panels
Mesh back to prevent wind chill
Powertex knees for flexibility and durability
G-lock wrist seals reduce water flush
PK G-lock zip: backout low profile plastic zip fastening
AERO-COMB: core minimises weight while maximising its internal surface area, this space allows trapped air to heat up and insulate your core.
Available in Grey with Red sleeves or Black with Red trim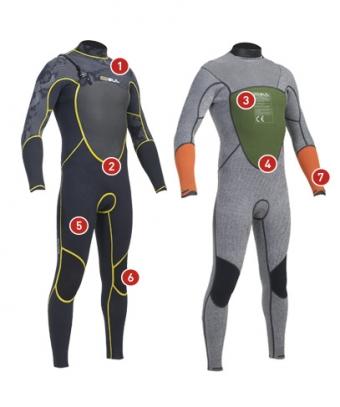 The above is a Venom Wetsuit - this shows the suit inside out, with the BOLT DRY Fabric cover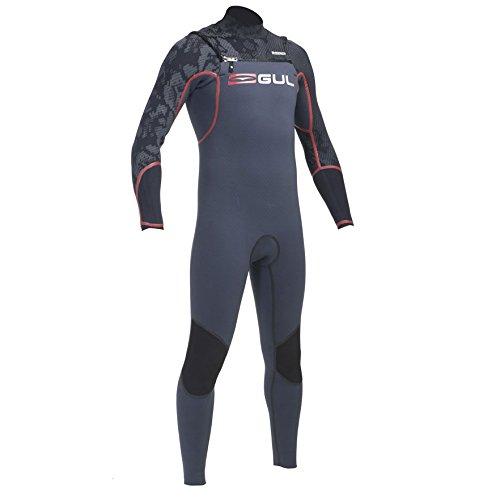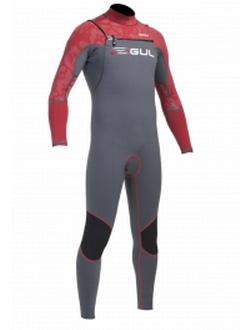 The above shows the Black wetsuit on the left, and the Grey with red sleeves on the right
The GUL Viper last seaons stock is still great for ultimate warmth in freezing conditions, the Gul 5/3mm Viper has been tested by our team riders Tom Butler and Mark Harris in some challenging and icy conditions.
The Quadrate horizontal chest zip entry with the Thermospan Tri-ply lined system keeps your core warm, allowing your body to pump the heat through to your hands and feet.
Blindstitch and external liquid seams provide 100% water seal, whilst X-Flex super stretch neoprene means that even this super warm suit keep you moving freely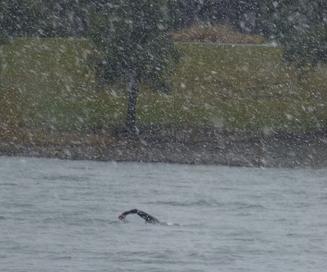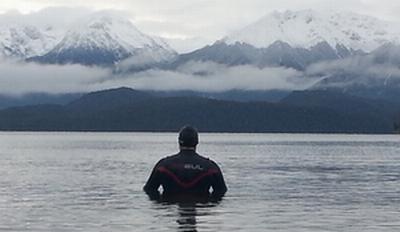 Pictures above wetsuit being used in middle of winter at Lake Te Anau, New Zealand while snowing.
Size Chart
Look at the drop-down list for the available sizes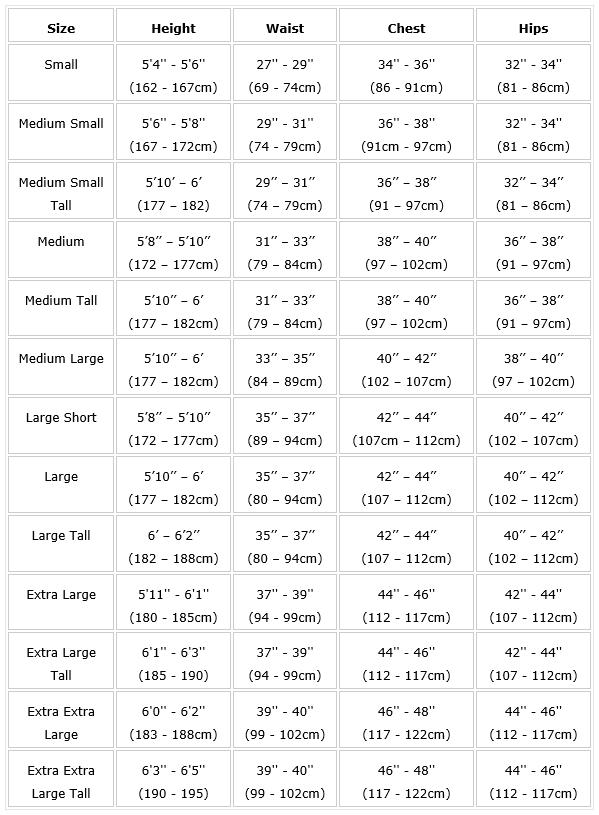 The conventional method of construction for serious winter wetsuits as it is both watertight and comfortable. Panels are glued and then butted together followed by stitching that does not penetrate all the way through the neoprene. Inside the wetsuit, heat welded tape goes over the seams in high stress areas, this further strengthens the seams and increases installation.

X-FLEX 100% stretch neoprene is used in our high performance wetsuits. It gives you maximum freedom of movement, allowing your wetsuit to work with your body without impeding stamina. The latest X-Flex neoprene is 10% lighter, absorbs less water and has a softer, more comfortable feel. The improved X-Flex neoprene also has a lower modus, which means they stretch more without losing their shape and spring.

New 4 way stretch high specification knee panels designed to resist the most harsh elements while providing maximum flexion and extension of the knee.
AFTERCARE:
Your wetsuit has been made from carefully selected materials to give the best combination of durability and performance. With the correct care you will gain the maximum life from your suit. Always rinse your suit after use, in clean water using a mild detergent if necessary. Pay particular attention to remove any sand or foreign matter from the zips. Please don't use any solvents or other chemicals to remove stains or marks from your wetsuit as this can cause damage. Do not force zips and if possible get someone to pull up the zips for you, pulling zips up not across. Protect your wetsuit from sharp or abrasive objects. Ensure the suit is the correct size and do not pull the ends of sleeves or legs to remove.
Item Reviews
Ashley Palmer
have just bought this wetsuit after 10 years of wearing o'neil wet suits , and will never go back . not only are they a fraction of the price they are as good if not better quality super comfortable and ridiculously warm . they are super flexible for surfing and also great for windsurfing and when standing around in he cold wind i had no problems getting cold at all and this is very rare for me . thanks heaps to nz sailing for hooking me up definitely the best service and advice i have had for a long time . highly recommend . : )
Gerard Bellam
Great suit. I've been searching for a genuine 5mm surfing suit for ages. Last suit was Oneill Psycho 4mm, and found the rubber very skimpy so always cold. This Gul suit is 5mm all the way down from the chest to legs. Quality construction. Great cold water suit. Toasty warm on Wairarapa coast this week. My son and I are stoked on the Gul 3mm bootties too. Very happy with quick friendly service.
Gavin Cran
GUL Viper suits are every bit as good quality as other more "recognised brands" their finish & materials is first class. I was initially sceptical about my purchase but for the cost took a leap of faith which in hindsight has proven to have been an excellent investment, there is no way I'd consider spending double the dollars for another O'Neill suit they aren't worth twice the GUL price. Mike & the team at NZ sailing are always extremely responsive to my inquires & particularly accommodating to any sizing changes etc, keep up the fantastic work guys. Gavin Cran
Chas Fleming
I first owned a GUL wetsuit 30 years ago. This GUL Viper is my first genuinely warm winter wetsuit. Yes its a bit difficult to get on and off, but once on you never feel cold and the price is unbeatable. I now have now 3 GUL wetsuits, winter, spring and summer and they are all great.
Yoann Ladroit
I got this wetsuit about a month ago and had the occasion to try it a couple times with quite cold temperatures (big southerlies at Lyall Bay). I have a major problem with it, which is that it is actually too warm and I will definitely need a lighter one for mid-season if I do not want to die of dehydration :). No, really, it is very warm, I use it for windsurfing on waves in Wellington, and get out for up to 4 hours at a time. I do not wear gloves, booties or a hood as I do not like the feel of it, but it looks like the wetsuit is keeping my body warm enough so that I have enough blood left to take car of the rest. It's also quite stretchy for such a thick wetsuit and does not feel bulky while surfing waves. Definitely recommend it!
Jared Kane
I purchased this wetsuit with the usual trepidations of buying a new wetsuit. I had never heard of Gul and was unsure of whether it would meet my requirements. I am a team leader of the Fiordland Marine Search and Rescue and due to not having a operational swimming pool in the district at present, there is only one place left to train, Lake Te Anau. Lake Te Anau water temperature is around 7-8 degrees. This suit has far exceeded all my expectations. I swim up to 30 minutes every second day in the lake, there has been no wear, no leaks, no cold spots and its amazingly well insulated. I have recommended this suit to others and two have purchased the suits so far. They tell me that they have spent up to 4 hours in the water surfing off the South Coast, South Island in these suits. I wont be wasting time with any other wetsuit in the future, this is it for cold water!
Peter
Hi Mike, Just wanted to drop you aline regarding the Viper Wetsuit. Glad you talked me into the tighter fitting one. Although hard to get in and out it was Super warm in Gisborne last week and it is usually a few degrees colder than here in the BOP. Im a real pussy in the cold but mate the temperature was not an issue in fact didn't event give the cold a thought once I hit the water. Really stoked Thanks heaps Peter
Mark Curtis.
surfed wellington south coast today (very cold water) first wearing of my Gul 5/3 Viper. awesome, owned lots of suits never been as warm, given all my mates the heads up on Gul and your site.
Sam Dillon
Awesome cold water suit just had weekend in Kaikoura surfing and was toasty warm after 3 hrs in the water, even first thing in am with frost on the rocks!! Bonus is how fast the lining dries, its almost dry immeadiately.Great flexibility for a 5/3
Cheyne Dowsett
Best wetsuit I've owned, super warm, easy to paddle and surf in, frothing for winter!