---
GUL Trapeze Harness - EVO 2
GM0374
GUL's Trapeze Harness - Latest new design- Evo2 - is our most comfortable!
Its exclusive optimum fit waist adjustment system allows a flexible and personal fit. Featuring the Evo2 load baring spreader bar made from fully anti corrosive 316 stainless steel.
Neoprene crotch and shoulders offer additional ride comfort and a 2 point adjustable strap system gives for easy and flexible single handed adjustment. Featuring a heavy duty Kevlar abrasion resistant and containing a unique adjustable air assisted lumber support that reduces back strain by adjusting to the contours of your back.
Allowing you to Trapeze for longer with comfort and ease.
Features:
EVO2 load bearing spreader bar made from anti corrosive 316 stainless steel
KEVLAR: abrasion resistant seat
Adjustable velcro waist
Coloured marker fitting system
Fully adjustable lumbar back pad
2 point adjustable strap system
Neoprene crotch & shoulder straps
HARNESS
Size
JL
S-M
L-XL
XXL
Height
5'2" - 5'6"
5'5"- 5'11"
5'10" - 6'4"
6'1" - 6'5"
(158 - 167.5 cm)
(165 - 180 cm)
(178 - 193 cm)
(185.5-195.5 cm)
Waist
27"-30"
30"-34"
34"-38"
38"-40"
(69-30 cm)
(76-86 cm)
(86-96.5cm)
(96.5-101.5 cm))
Stretch Crotch
Has been designed with comfort in mind, made from multible layers of Duratex neoprene. Giving added freedom and flexibility to the crotch area.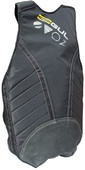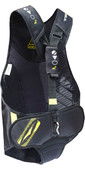 Air-Lumber Support
Different Sailors require different performance characteristics the air lumber support has been designed to offer the rider a lightweight, versatile and cushioning lumber support to meet personal needs. Its Velcro adjusters allow tailored placement. The lumber support has a 4-layer construction that includes webbing and batten protection, pressure battens to spread the load, EVA foam and easy inflate air bag with mouth valve.
Optimum Fit Adjustment System
The Evo2 harness is adjustable and will fit a large range of sizes. The yellow Velcro strips features as a size guide. To achieve an accurate fit, the Velcro should reach the yellow Velcro strips once the harness has been fastened. We recommend a bigger size if the yellow strip is still fully visible once fastened.