---
RRP for the Carbon XWave Pro is $3,800.00! - Secure yours now at our fantastic price!
DESCRIPTION
The Xwave range is an ultra-versatile Wave-Frewave board with different configurations:
-Thruster or single
-Position of multiple footraps.

Its versatile scoop makes it comfortable in all conditions, on-shore or side-shore, or in bump and jump in the strong wind.

• Ideal in ON SHORE to side shore conditions
• Versatile boards in tri fins or single depending on sailing conditions

FEATURES
• Equiped with 1 center fin and 2 cover box in single fin mode
• 2 G10 CNC fins (twin fins) in tri fin configuration
• DDSA (Double Density Shock Absorber)
• 4 footstraps
SPECS
• Quick on the plane in all conditions
• High performance in European condition, from side shore to on shore
• Versatile board, FREE WAVE in single fin mode or pure wave in tri fin model

Volume
Length
Width
Weight
Fins
Box
Sail sizes
X-Wave 73
73 Litres
227 cm
53.5 cm
6.4 kgs (+/- 6%)
1x Exocet 20cm G10 +
2x Exocet 10cm G10 +
2x Slot box cover
US box + Slot Box
3.3 - 5.3 m2
X-Wave 85
85 Litres
229.5 cm
56.5 cm
6.8 kgs (+/- 6%)
1x Exocet 21cm G10 +
2x Exocet 10cm G10 +
US box + Slot Box
3.7 - 5.7 m2
X-Wave 93
93 Litres
231 cm
59.5 cm
7.2 kgs (+/- 6%)
1x Exocet 22cm G10 +
2x Exocet 10cm G10 +
2x Slot box coverExocet 50 cm
US box + Slot Box
4.0 - 6.2 m2
X-Wave 101
101 Litres
235 cm
62 cm
7.2 kgs (+/- 6%)
1x Exocet 23cm G10 +
2x Exocet 10cm G10 +
2x Slot box cover
US box + Slot Box
4.2 - 6.8 m2
X-Wave 111
111 Litres
235 cm
65 cm
7.3 kgs (+/- 6%
1x Exocet 24cm G10 +
2x Exocet 10cm G10 +
2x Slot box cover
US box + Slot Box
4.7 - 7.2 m2
X-wave 129
129 Litres
260 cm
65 cm
9.0 kgs (+/- 6%)
1x Exocet 25cm G10 +
2x Exocet 10cm G10 +
2x Slot box cover
US box + Slot Box
4.7 - 7.2 m2
CONSTRUCTION
• Moulded semi-custom
• Custom finish
• CNC shape EPS
• Carbon Biaxial 160gr construction on 100 kg/m3 PVC deck and bottom, multiple structural re-inforcement on the rail

Exists in six models : 73 / 85 / 93 / 101 / 111 / 129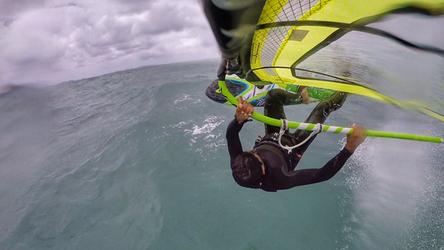 Rodrigo at Orewa Beach getting some air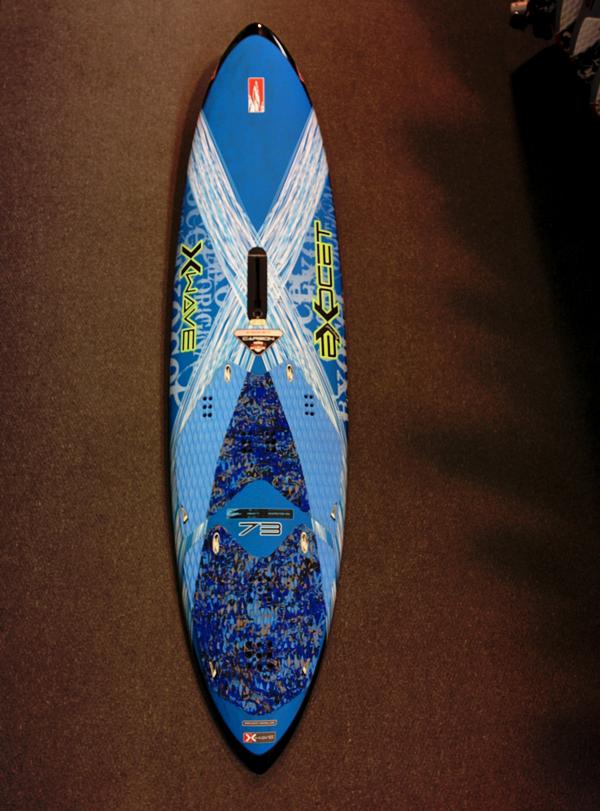 Xwave getting ready
The new XWave edition is shorter, measuring 230 cm and curving off with a subtle pintail for better control and grip.
The XWave line remains a fast board that enjoys side shore conditions with instant planing even in marginal winds.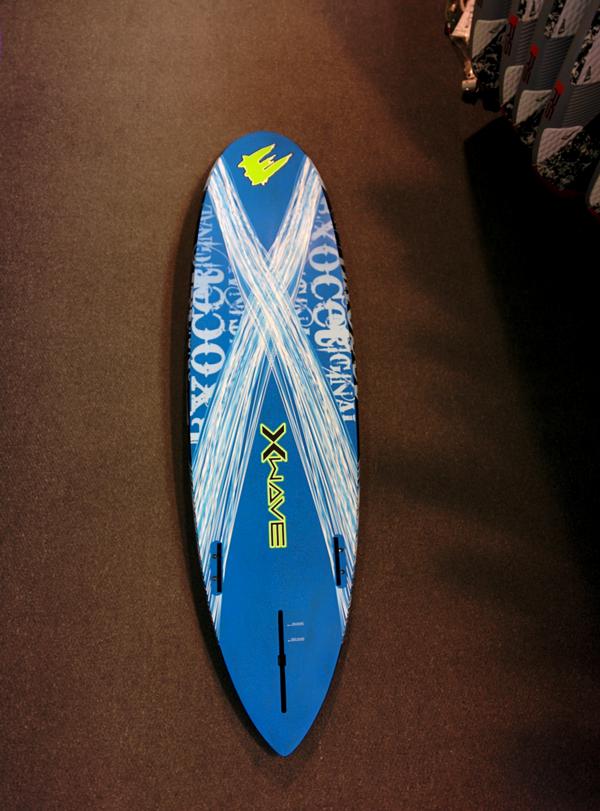 Underside of the new X-Wave showing the Tri fin. New owners comments after the first sail were "That board is amazing. I loved it!"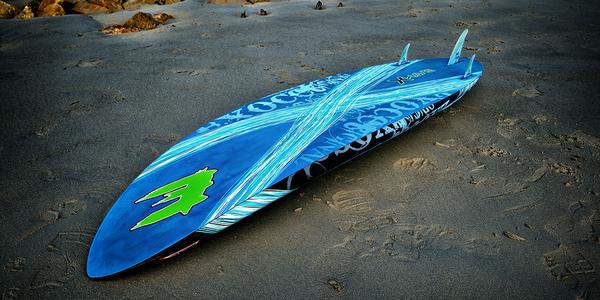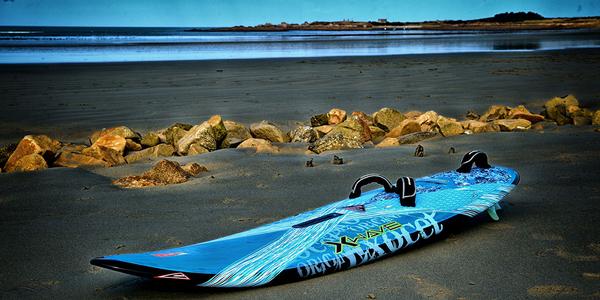 X-Wave
The new generation of X-wave are built using exclusive high technology, incorporating extensive use of Carbon & wood materials. All boards come with CNC fins especially developed for fast wave boards. With a straighter leading edge these fins provide top control in high speed turns.
New this year are 2 new sizes with the X-wave 101 and 111 litre for sailors looking at sailing in any type of condition, from big waves to onshore or bump and jump conditions. The X-wave will get any sailor of any weight instantly on a plane.
Construction
Custom Made Biax Carbon + Biax Glass
Features
DDSA: Double Density Shock Absorber
E.U.R: Exocet Unique Ride
QC: Quality Construction
D.S: Double Sandwich construction including new generation biaxial fiber glass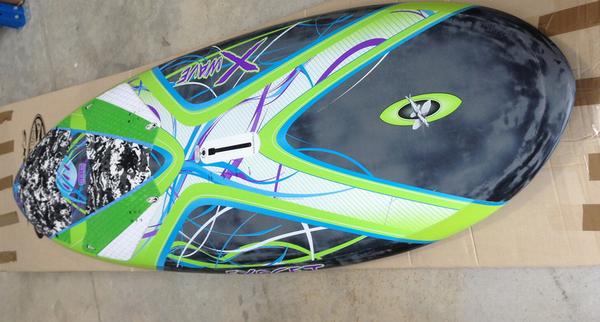 The new strong carbon sandwich construction enhances the durability and lifetime of the board and still maintains low weight.
Exocet XWave specifications

| | | | | | | |
| --- | --- | --- | --- | --- | --- | --- |
| | X-Wave 73 | X-Wave 85 | X-Wave 93 | X-Wave 101 | X-Wave 111 | X-Wave 129 |
| Vol. [l] | 73 | 85 | 93 | 101 | 111 | 129 |
| Length [cm] | 227 | 229.5 | 231 | 235 | 235 | 269 |
| Width [cm] | 53.5 | 56.5 | 59.5 | 62 | 65 | 65 |
| Weight [kg, +/- 6%] | 6.4 | 6.8 | 7.1 | 7.2 | 7.3 | 9.0 |
| Single Fin Setup | 1 x 20 cm US | 1 x 21 cm US | 1 x 22 cm US | 1 x 23 cm US | 1 x 24 cm US | 1 x 25 cm US |
| Tri Fin Setup | 2 x 10 cm Slot | 2 x 10 cm Slot | 2 x 10 cm Slot | 2 x 10 cm Slot | 2 x 10 cm Slot | 2 x 10 cm Slot |
| Sail [sqm] | 3.3 - 5.3 | 3.7 - 5.7 | 4.0 - 6.2 | 4.2 - 6.8 | 4.7 - 7.2 | 4.7 - 7.2 |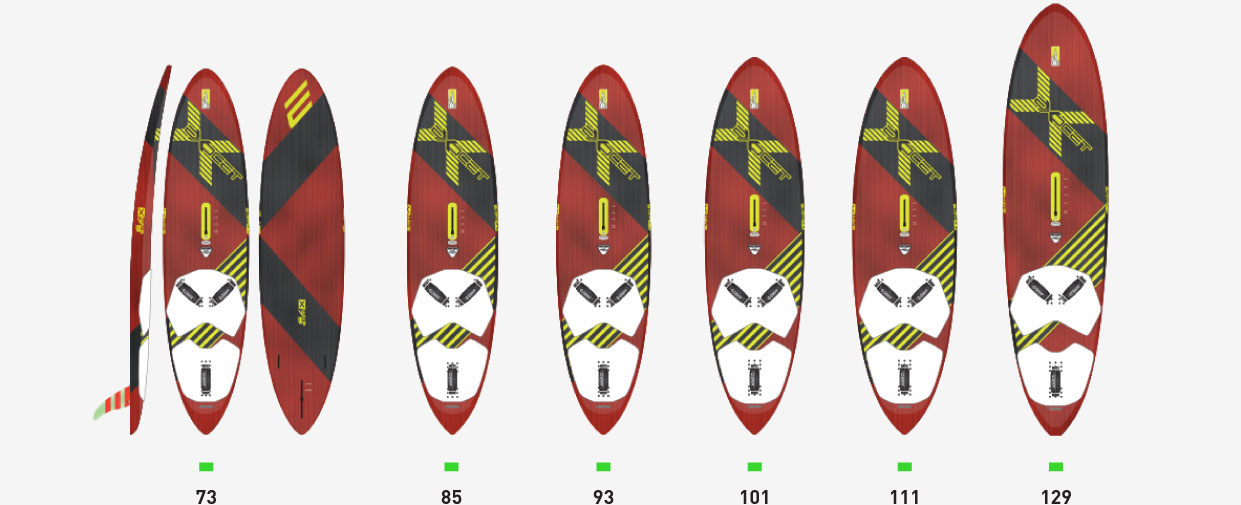 Below is a link for the matching board bag for these boards (We recommend MIX - XS for the 71, 81 and 91, MIX - S for the 101, and MIX - M for the 111).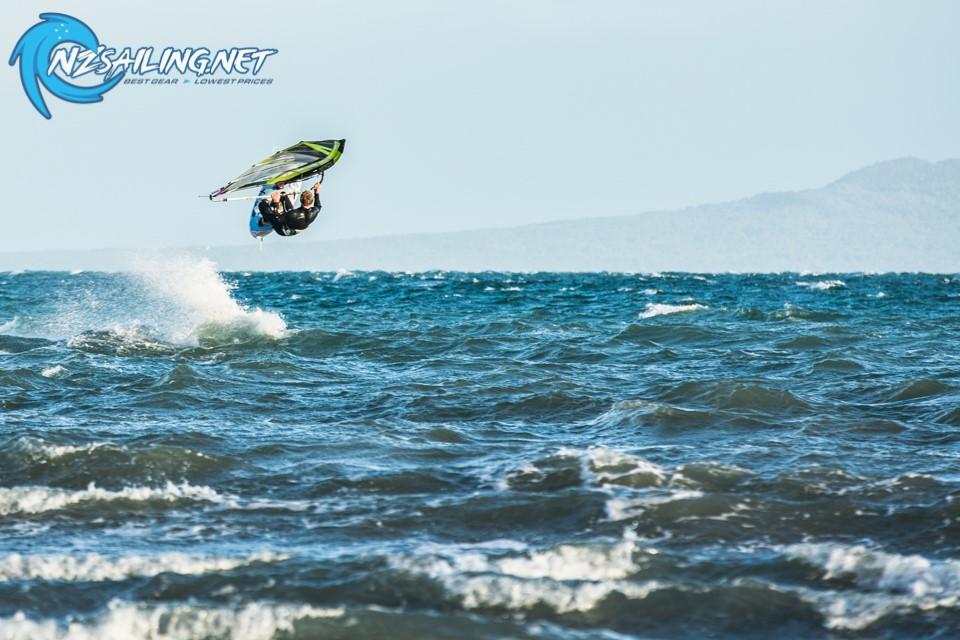 REVIEW:
My Favourite Auckland Set Up
I think we are blessed with Auckland's range of sailing spots and conditions. We have waves, bump & jump and flat water and a good dose of wind each year. Finding the right gear is a challenge, but I reckon I have found the perfect set-up. I love my Exocet X-Waves and XO Sharks.
The X-Wave has an amazing mix of speed, strength, hull design and fin set up. Legendary shaper Peter Thommen once said that no one raves about going slowly and this is where the X-wave scores: it's really quick for a super controllable board and is rarely beaten by rival designs. This brings me onto hull design.
Exocet's shaper Jean Marie Guiriec really nailed it with this shape, there is a lot going on with the hull, with various areas for different purposes. There's rocker, a good dose of V under the mast track, a flattish section at the tail for speed and just enough tail rocker. I'm no design expert, but it is clearly a versatile shape. It turns beautifully on any size wave, and gybing is super easily in choppy conditions. The thruster fin setup helps with its awesome turning capability, but also enables great upwind tracking. The carbon glass construction is also reassuringly strong yet light and the clever heel pockets mean that the deck is not interrupted by ridges of footpads. It's hard to put into words how good this board is, except to say that everyone I know who has one, always has a great sail and is usually the master of the conditions.
To complement the board I use an XO shark. Exocet's sail division have created a gem of a sail and with the X-Wave, it seems to suit Auckland's gusty winds. It has balanced characteristics; low down power to thrash out through Owera mush, yet neutral pull when overpowered. When mega-overpowered it gets a bit heavy, but is still useable. I've used them at Meola on the flat, Shakespear for Bump & Jump, freestyle at Manly and in the waves at Orewa. Finally, I love the full X-ply construction and the quality finish.
I guess what makes this set-up extra sweet is that it is also light on the wallet, which means more money for sausages.
Dave Law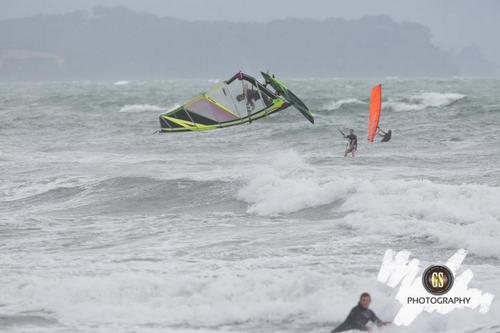 Review by Wellington rider, Yoann:
"Board: Exocet X-wave 91
Sail: X0-Sail Shark 4.5
Condition: 25 knots gusty, logo high cross-off wind, Logo high to mast high clean wavesSpot Lyall Bay, 17/04/2015
I have had this board for a while now, but did not have the conditions to test it in waves, as I usually use smaller board in Wellington… I have used it as a bump'n jump board, in lighter wind, and was already very happy with it. Fast to plane and easy to jibe…
But for today's gusty conditions this seemed like the perfect day to test the board. This board gets planes very easily, and I had no issue at all getting out. Very well balanced under your feet and quite floaty for 91 liters (I weight 90 kg)… It jumps well, and the pads are very comfortable when landing a bit hard…
On the surfing side, it is very, very fast, and very easy to drive on the wave… I think it would be looser with a smaller fin, (I think 20 or smaller should be enough in thruster configuration), but I loved it that way already. It turns quite tightly for such a big board and recover its speed very easily… I will definitely use it more that I used to on those days where the wind is a bit less steady than usual, and you need a bit extra volume to get going.
Overall, a very good wave board, and I am very happy with it!!!"