---
Exocet EVO Stand Up Paddle Board 10'9"
EVO 10'9
This is the Ultimate board it has great glide for the flat water and is very manoeuvrable for the surf,
and it is also great windsurfer that pops on the plane easily without stress and doesn't sink when you Tack or Gybe.
This is our best selling board and has performed well for many Kiwi's in the wide range of conditions we enjoy here in NZ from flat water to surfing. Check out the feedback from Kiwi's below.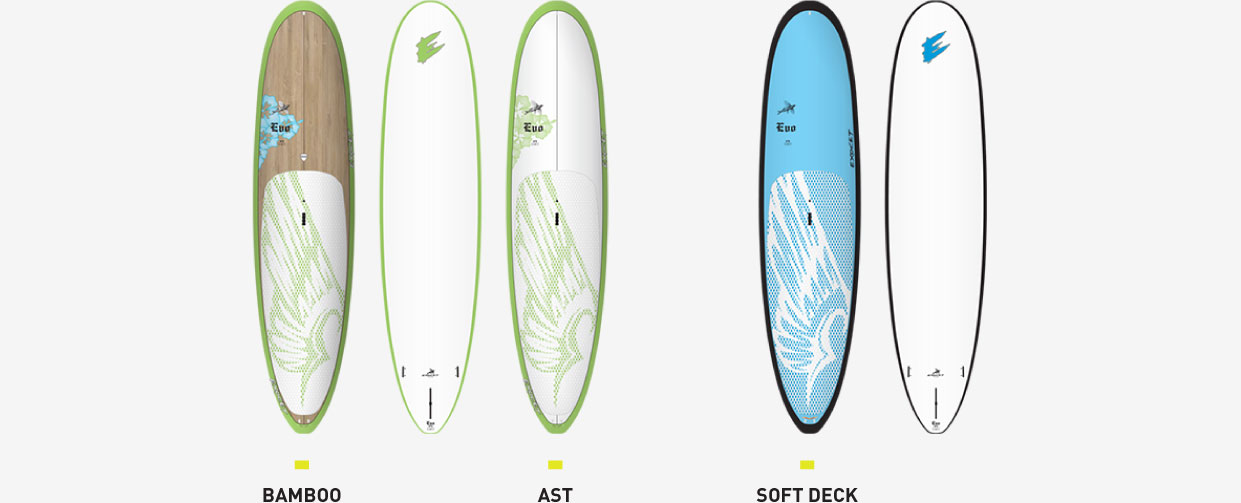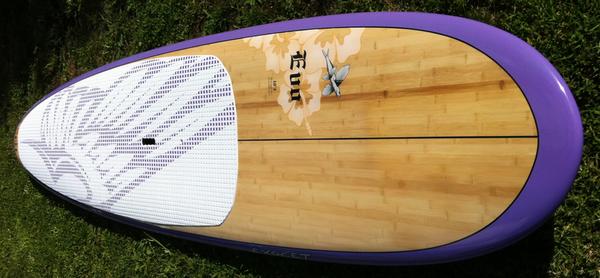 Above showing Custom Made Bamboo Sandwich construction with Purple Trim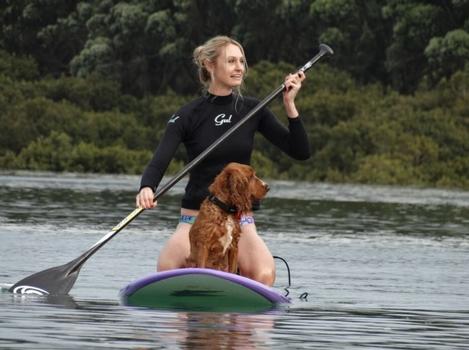 The EVO 10'9 is available in four construction types, AST, Standard, Custom Made Bamboo Sandwich and Soft Deck, and is offered as the perfect allrounder. Great for flat water paddling and taking in the surf, or if there is too much wind to paddle then Windsurf. Use the drop down menu at the bottom of the page to see the different construction methods, colours and prices. Exocet boards from France are the world leaders in design and construction.
Quite simply these boards glide like they are a foot longer and surf like they are a foot shorter. Former World Champion Patrice Belbeoch has developed a unique Hull design that increases the speed of the board to help get you onto waves earlier and planing faster. The Hull design also makes the board very loose and easy to handle, allowing very quick turns on both flat water and on waves. The new hull design makes big boards feel very nimble for their size. These boards are a 'game changer' and will have everyone re-thinking SUP board design moving forward.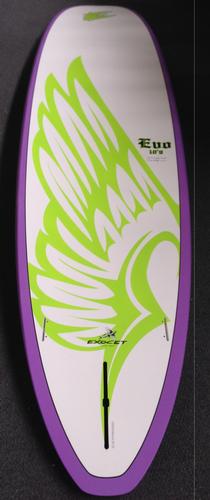 Above is the new X Design, Front and Back in Wood with Purple Trim
For a limited time at these discounted prices. With a RRP of $2,200 for the AST and $2,500 for the Custom Bamboo Sandwich & $1,800 for the Soft Deck these boards won't last long. Be quick to secure yours now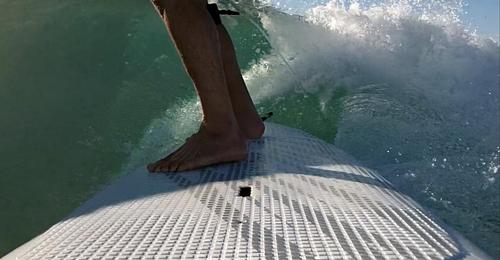 AST construction board with grey trim in the Surf at the Mount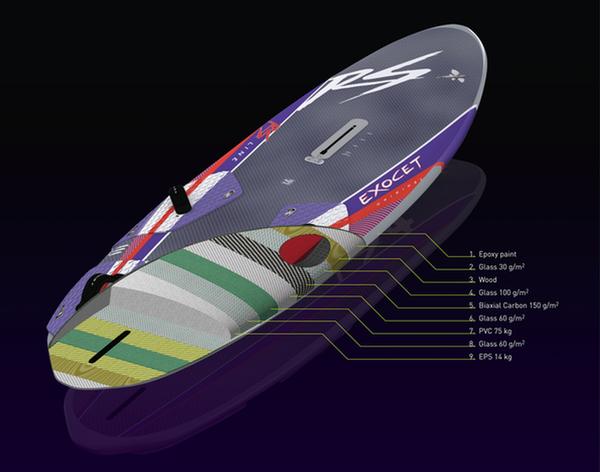 Picture shows the Exocet construction with the different layers giving strength and lightweight
CONSTRUCTION/ Custom made Wood (Bamboo) sandwich / AST / Soft Deck Picture above shows Typical construction of Exocet boards with the different layers of materials including Carbon, Bamboo (Wood) etc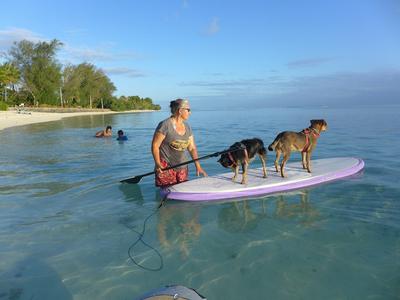 Enjoying the boards in RAROTONGA with friends.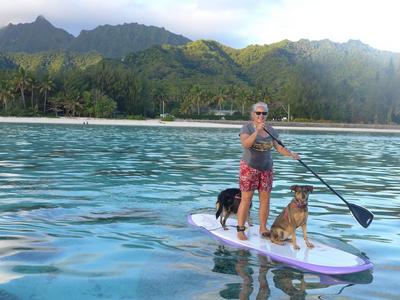 Specifications

| | |
| --- | --- |
| Model | EVO 10'9 |
| Volume | 198 litres |
| Length | 335 cm / 10'9" |
| Width | 78 cm / 30.7" |
| Wood Weight | 11.7kg |
| AST Weight | 11.9kg |
| Standard Weight | 13.4kg |
| Soft Deck Weight | 15.9kg |
| Center Fin | 14.5 cm US box |
| Side Fin | 2 x FCS 11 cm |
We are now offering an extensive line of paddles to compliment our SUP range.
Below is a link for the matching board bag for this board (We recommend SUP - L).
Item Reviews
Joe Youssef
After purchasing an Exocet paddle board from NZ Sailing I did some more research! It turns out the design is very strong and extremely light compared to other boards. I Wanted another paddle board so after knowing a bit more I checked out some "named" brands but found they came up lacking in comparison to my Exocet in design, strength (had mine for a year now and still no indents from knees or feet) and weight. Other branded boards were much heavier! and the price was more expensive! I subsequently I have bought another paddle board for my wife and recommended Exocet to two other friends who after their own research found Exocet to be a superior board. Totally recommend the board and dealing with NZ Sailing has been a pleasure. Their broader range of water based products is extensive and much cheaper than I have found elsewhere! A+
Michael
I've had this board for 3 weeks and love it. It's a great board for anyone. Great on the flat but even handles the surf just fine. I've surfed 3 foot waves with a child on the front of the board ! Will be back for another board soon for bigger surf.
Verney
Had this board for a week now – works fantastically (I've been out about 8 times and loving it). Had it out in small surf and it catches waves well and can cruise across the face with ease. Also good on flat water – a nice easy glide to it and very stable. I did a heap of research before I purchased this from Mike and I'm super pleased with it. He was really good at helping me pick out the perfect board and I reckon these EVOs are top performers at a great price – it blew my mates blow up Naish out of the water for stability and usability (and cheaper too!). Totally Recommended
Rob Harwood
I live at Red Beach and had tried to get into surfing but got tired of watching the paddle boarders catch endless waves to my 1 or 2 good rides. I brought the 10.9 as I wanted a board that would be suitable for the family to use, have enough floatation for me and my daughter to ride waves together, and for me to be able to hit up some big surf. I have not been disappointed it is a great board. The my entire family use it. I get out for flat paddle days, nice waves on the tide at Orewa bar and big surf days. The best day so far was me and my 8 year old standing up on a wave together. I am 88kgs and she is 28kgs. It has been the perfect starter board I am now looking forward to getting a Marlin 14ft and a 8ft fish. Mike is a great guy to deal with and if you check the market it is a amazing price for an epoxy board.
Mani ltd
Hey peeps these boards are fantastic! I bought an evo 10'3 before Xmas to try my hand at paddle boarding and this boards amazing. Extremely lite weight and turns on a dime! You can throw it around like a rag doll in even small to medium surf. Looking to buy an 8'6 fish sup in the same range for the big stuff also. I've checked out other boards and they do compare but just not that good. If ur thinking of buyin a board u need to check these out!
Chris
After shopping around this was the only shop willing to sell me such a high quality board at such a reasonable price. Mike listened to what i needed, gave me great advice and delivered the board to my door. It performs really well in the surf and on the flat, and feels light for its size. Awesome all round board!
Troy Woods
I have had this board for a few years now and love it. Excellent all round board. I use it for flat water paddling and in the surf and it is great for both. The kids use it in flat water and can handle it easily. I also have a 6.5 Nano windsurf rig for when the winds up - change the center fin and have a blast. Brilliant all round package - highly recommend it.
Craig Latta
Great board at a terrific price compared to what else is out there. Top service from Mike and team to get the board down to Dunedin and in great shape. Have had it out in lots of differing conditions and just loving it so far. Really light so great for manoeuvrability in the water and getting it on and off the roof rack. Get one you won't be disappointed.
Christian
The service and attention to detail from Mike and his team was second to none. he took the time to understand our needs and make sure that we were matched with the correct Board and equipment. The EVO 10' 9" is an excellent starter board for myself and the family, and the reasonable price only adds to the great experience. Great Board - Great People
Vaughan Groves
I've been riding this board 2.5 years now and it has proven to be outstanding and hard wearing - no need to buy another. The 10'9 performs exceptionally in surf and flat water cruising. Can't rave about this board enough and I'm now looking at attaching a sail rig to it for some windsurfing! Excellent service, board and price!!