---
WASZP - "ONE DESIGN" FOILING WASZP
WASZP Complete
Special 5 boat Deal, Save over $2000 on Airfreight price. If you are prepared to pay a deposit and wait until we are able to bring in 5 WASZP in one shipment with a special price of 22,900. Grab yours now. The current price to bring one in by Sea is 23,900.
Over 50 WASZP's now in New Zealand!!! - THE MAGIC OF FOILING!!!
- Choose your own coloured Hull, Sails & Wings
Order your WASZP now to secure your place in this exciting new one design class.
The New Waszp has the benefits of all of the developments over the last 3 years including the new Foil.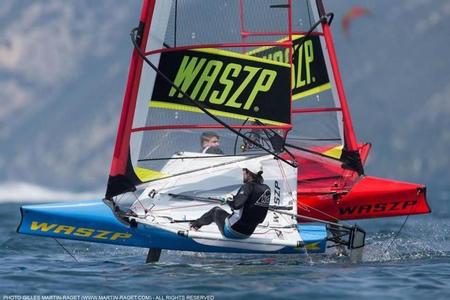 FIRST PRODUCTION BOATS IN ACTION - LAKE GARDA, ITALY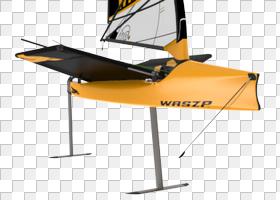 Wings can get set flat to give more stability when you are learning and once you are confident and consistently enjoying the rush of flying, moving to race mode lifts the
wings to a 17 degree angle, allowing more advanced foiling techniques such as windward heel.
As the wings are further from the water this induces extra drive from the horizontal foils and increased righting leverage.
This increases speed and height upwind significantly.
In race mode the sky is the limit. Choose to hit the water for the pure thrill or get ready to race.

To deliver the promise of foiling for beginners through to advanced racers the orientation of the wings of the WASZP needed to be flexible to change the amount of stability
provided to the sailor.
An affordable, modern, durable, easy to learn and race class that brings a new definition of fun.
A choice of three rigs provides options for 40 to 100 kilo sailors.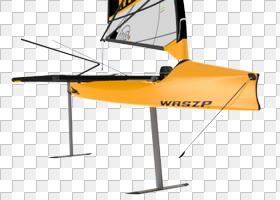 In beginner mode the wings are locked down to a horizontal position.
This provides the most stable platform for learning to foil as the wing buoyancy is lowest to the water.
It also reduces the need for active balancing to keep the boat upright.
Movement around the boat is also easier on the flat surface.
Beginner mode allows the sailor to concentrate on learning the balance and trim positions to initiate and sustain foiling
The WASZP project was conceived in 2010 by Andrew McDougall, designer of the world beating Mach 2 foiling Moth.
The Moth is a racing boat with very few rules and therefore has developed into a boat that is beautiful to sail on the water, but not the answer to everyone's requirements for a sailing dinghy.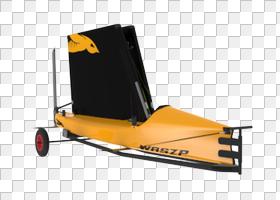 In storage mode the wings are folded vertically upwards.
This reduces the hull width to just over 1.4 m including the trolley.
The sail, mast and boom can all fit neatly inside the slot between the wings for storage.
Further gains can be made if the boats are parked top to tail.
The concept was for a foiler similar to a Moth, but answered all the sticking points that stop people buying a Moth
The WASZP delivers a platform for beginner foilers to advanced racers.
GENERAL SPECIFICATIONS
Length: 3.35m
Width Packed: 43cm
Width Folded: 1m
Width Sailing: 2.25m
Draft launching: 20cm
Draft 'low riding': 1m
Draft foiling: You choose!
Overall weight: 48 kilos fully rigged with foils
Minimum foiling cruise wind speed: 5 knots
Minimum lift off wind speed: 7 knots
Top speed: 24 knots+
Fun factor: Massive
WHATS IN THE BOX
EVERYTHING YOU NEED TO FOIL
Boat
Complete WASZP - hull, wings/tramps, foils, control systems and rigging
Choice of 5.8, 6.9 or 8.2 sq.m rig
2 piece carbon mast
Adjustable aluminium boom
Ride height adjuster
GPS mount
Foil Covers
Trolley
Cover