---
Rooster Poly Pro Top - Great Price!!
RPPT
The Rooster PolyPro™ Top....

Ever wanted to give your neoprene garments a heat boost?

This top is a combination of Spandex (10%) and Polypropylene (90%) offering a perfect layering material. Normal Lycra rash tops are cooling layers designed to cool the body, this top has the outward appearance of a Lycra top but has a brushed ´fleece like´ inside to provide good thermal qualities.
It also remains remarkably dry since the polypropalene material hates water. Wear it under neoprene wetsuits, our Hot Top, our Thermaflex top, our Dry Suit....... in fact the possibilities are endless - this top would be great under your ski suit, down the gym, cycling etc.


Also available as leggings and socks.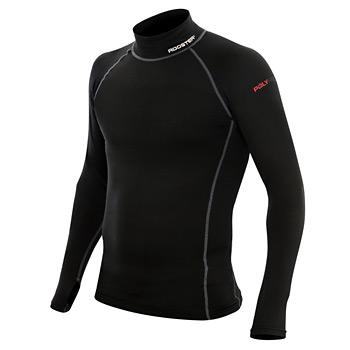 SIZE CHART
3XS
2XS
XS
S
M
L
XL
2XL
Height
cm
141
4´7"
153
5´0"
158-163
5´2"-5´4"
163-170
5´4"-5´7"
170-178
5´7"-5´10"
178-186
5´10"-6´1"
186-188
6´1"-6´2"
188-191
6´2"-6´3"
in
Chest
cm
71-76
28"-30"
76-85
30"-33"
85-92
33"-36"
92-97
36"-38"
97-102
38"-40"
102-109
41"-43"
109-119
43"-46"
119-125
46"-49"
in
Waist
cm
-
-
71-76
28"-30"
74-76
29"-30"
79-84
31"-33"
87-94
34"-37"
97-102
38"-40"
104-109
41"-43"
in
Ladies Dress Size
-
6
8
10-12
12-14
14-16
16
18

Washing
We recommend hand washing in warm water.
REVIEW:
Amazing piece of kit, 6.27.2013
Reviewer: Adrian Howe (Steeple Claydon, Buckinghamshire)

Bought to wear under my hot top as I was getting cold between races if there was a delay and lots of wind. Great warmth but also makes a wetsuit far more comfortable as it quickly drys out against the skin. My hot top was my favorite bit of kit but the polypro top has now surpass it.
Item Reviews
Mike Knowsley
These are great. I wear one summer and winter. Summer its the only layer. Winter its under 1 or 2 other layers. Always comfortable.
Colin
I use this as a base layer while skiing. It keeps me warm and wicks away the moisture so that you stay drier. Only issue is the sleeves could be slightly longer for me.
Vaughan Groves
I cannot rave about this top enough... it keeps me warm when windsurfing and paddle boarding, heaps of flex and when it gets wet, I stay warm and it dries quickly. A must have in your kit!
Philipp Governale
This is an excellent piece of clothing that I always use when sailing. It is warm, flexible and very comfortable to wear.