---
Rooster Mesh Bag - great kit bag
RMB
Rooster 40L Mesh Backpack; the ultimate bag for kit control.
When I go to an event with my Large Rooster Carry All I always pack spares and extra bits that I am not sure I will use. However, when I nip to the changing rooms and I already know what the conditions will be for the day I can pack a small kit bag using my nice dry Mesh Bag.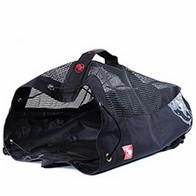 Getting changed is easy; putting shore side clothes back into the Mesh Bag ready for after racing - remembering to leave towel and shower gel on the top. After showering stash all the wet stuff back in the mesh bag to take home; hanging the bag up to drain if the gear is really wet.


When all the kit has been pulled out to wash or dry, the Mesh Bag dries so quickly that it is ready to receive the dry kit the next morning.


My most used and favourite bag ever.