---
Rooster Laser® Carbon Tiller - Plate Version
LRCT
The strongest tiller on the market - space age technology - manufactured on a mandrill with pre-preg materials to produce the most consolidated carbon fibres ever!
Each tiller is also wound with 45 degree twill to improve the tillers hoop strength and make it bash resistant and fitted with a plate to prevent traveler wear - but its not cheap stuff - hence the price!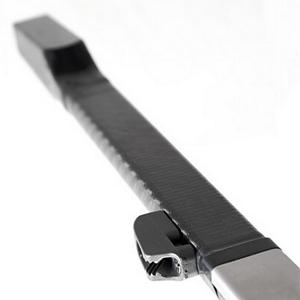 Why to buy....
Customer Reviews
Average Customer Review: 5 out of 5 stars 1 Reviews
Write an online review and share your thoughts with others.
5 out of 5 Well worth the money!, Reviewer: Duncan Whitrow (Bath, Somerset)
This tiller is simply the stiffest I have found. Previously had an XD tiller, but it constantly hit the central traveller cleat whenever there was a decent amount of traveller tension. No such problems with the rooster tiller, plenty of clearance over the cleat whilst being really low at the back to enable very tight traveller line and this more leach tension when block to block.
Laser® is a registered trademark of Laser Performance, Performance Sailcraft Australia Ltd and Performance Sailcraft Japan Ltd. NZ Sailing Ltd is fully independent of Laser Performance, Performance Sailcraft Australia Ltd and Performance Sailcraft Japan Ltd