---
THE FAMOUS ROOSTER HOT SOCK "a revolution in warmth"
A 0.5mm titanium layer that is both comfortable and warm.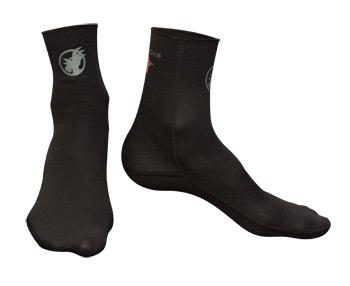 Wear them under your normal dry suit and sailing boots for extra warmth - remember layers are better than thickness!
Titanium neoprene acts in a similar way to a survival blanket, the titanium impregnated reflective layer is sandwiched between the neoprene and the interior nylon lining, this lining reflects radiated heat back to the body.
The Material has four-way stretch and we have designed these to be worn under dry suits.

Hot Sock Size
Shoe Size
UK
Europe
USA
X-Small
4½-5
38-38.5
5½-6
Medium
7-7½
41-42
7½-8
M-Large
8-9
42.5-44
8½-9½
Large
9½-10½
44.5-45.5
10-11
Also available in the Hot Range: Hot-Top, Hot-Shorts and Hot-Legs
Note: If you have wide feet or a high instep we recommend you opt for the next size up.
Average Customer Review:
3 Reviews
Write an online review and share your thoughts with others.
hot n toasty, 6.8.2009
Reviewer: carol bellamy (selby, Yorkshire)

last winter i had to come in from sailing because my feet were so cold so for christmas i asked for some hot socks and when i went out for the boxing day bottle my feet were hot n toasty and very comfortable and you can still move your feet about!!!
---
I'm a 'Hot' fan!, 2.23.2009
Reviewer: Mike Edwards (Nantwich, Cheshire)

The hot socks are my third purchase on the 'Hot' range and I was not disappointed. Not only wonderfully warm, but comfortable and they provide extra padding whilst sitting out.
---
Truly 'hot socks', 1.11.2009
Reviewer: Chris Turner (Bromley, Kent)

Used for the first time: -5 degrees with ice in the boat and on the water. My feet were warmer than they have ever been during winter sailing. Great product