---
Rooster/ Holt Laser® Replica Sail 4.7
L47S_REP
Rooster/Holt 4.7 Replica sail for the Laser® -
same cut and similar sail cloth weight as an official sail - ideal for training/practice or fun use at the club.
Please note that this sail cannot be used at an official Laser Class Association event.
Includes Sail Bag.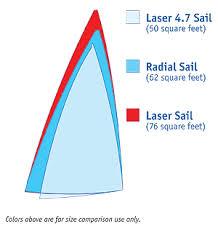 We have a full range of Laser Sail Numbers in Red & Black available for purchase and the Laser Star
Battens are supplied seperately
Please note that the Laser® class insignia is not supplied with this sail.
Laser® is a registered trademark of Laser Performance, Performance Sailcraft Australia Ltd and Performance Sailcraft Japan Ltd. NZ Sailing Ltd is fully independent of Laser Performance, Performance Sailcraft Australia Ltd and Performance Sailcraft Japan Ltd