---
Rooster Armour LITE Shorts - Padded short and will take the Rooster Hiking Pads.
RAS-LITE
ROOSTER introduce the RaceArmour™ Concept.
Building on the success of the Rooster DS Layering System™,
RaceArmour™ LITE: Featuring dual-layer contoured neoprene padding with durable armoured exterior and 410gsm Spandex front panels ; whether you sail in the Bay of Island or the South Island, we have you covered.
Wear them on their own in warmer climates for extended hours on the water, with Rooster ProHike Pads to hike harder for longer, or as a perfect partner when worn over an existing neoprene garment.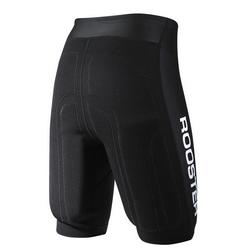 Size
Waist
(Metric)
Waist
(Imperial)
Junior Small
55cm
22"
Junior Large
65cm
26"
X-Small
70cm
28"
Small
75cm
30"
Medium
81cm
32"
Large
86cm
34"
X-Large
92cm
36"
From basic Neoprene (Race Skin) Shorts to our RaceArmour™ Range which come with dual-layer contoured neoprene padding and durable armoured exterior. Again, compatible with the ProHike Pads.
The really useful thing about these shorts is the silicone gripper featured on the thigh seems and waist to stop them slipping down or riding up. Wear them over your Longjohn or by themselves on hot days.
"For winter hiking support and protection against an abrasive hull, we love our RaceArmour™ Lite Shorts with ProHike Pads worn over the top of a SuperTherm® Long John. I can see me wearing them over a ThermaFlex LJ in the UK summer - and at Garda in light airs, perhaps on their own."
Steve Cockerill