---
Point 7 - Sweet 2G Girl's Passion
P7 SWEET
Sweet 2g: No reason to hold back; if you've got it, flaunt it…
For who: Not made for all girls, but for those girls who fear nothing, who wants to push their limits and do so in style!
Its all in the details: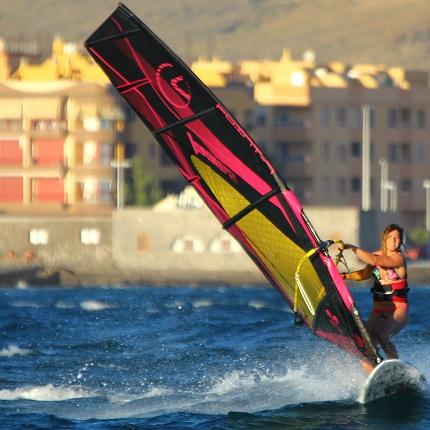 We took the best sizes from our wave and freeride lines and combined their qualities to a special profile and boom height that will fit a lighter rider weight with less power than a man. Enhanced with a visual design that leaves no doubt to the theme of the sail.
Take the SWEET into the waves and feel the elegance of the performance to get radical. This superbly balanced sail body will justify any level of sailing for easy starting steps to down the line wave sailing.
Using a lowered boom opening and height of the outhaul grommet, the sail is also fitting shorter riders.
Tuning: It's simple! Once you have inserted mast the main points to look at for correct tuning are the following: Downhaul tension and batten tension. Outhaul tension you can vary according to wind strength.
Downhaul Tension: when applying downhaul, you will see that between 1 and 2 from the top a horizontal 'V' shape will form from the loose material. The 'V' will have to be loose till half way towards the mast sleeve. The battens have to sit in line with the front of the mast. No need to look at other areas to check the correct downhaul setting. If you follow the specs given on the sail, with a Point-7 extension you will get it to the right trim immediately. For more bump and jump condition you can pull a centimetre more downhaul. . If you look for more speed and less manoeuvrability, pull an extra 1cm of downhaul.
Batten settings: Put good tension till you will see the profile on batten 1 and 4 from the top. The other battens need just enough tension to remove wrinkles. Don't over tension.
Outhaul settings: Keep the outhaul positive 2cm in light wind and add up to 4cm in stronger conditions.