---
Point 7 SWAG (3-batten)
P7 SWAG
SWAG: Got Swagger?
For who: The real wave sail. If you try to imagine dream sail for real wave sailing. Then the SWAG will tick of most of your boxes. This new development does absolutely everything. Delivers just the right amount of power for bottom turns, completely neutral when needed and super light at all times. Take the SWAG for a cruise and you will not realize that it's just a 3 batten sail. Enjoy the SWAG in all conditions. The more waves the more fun.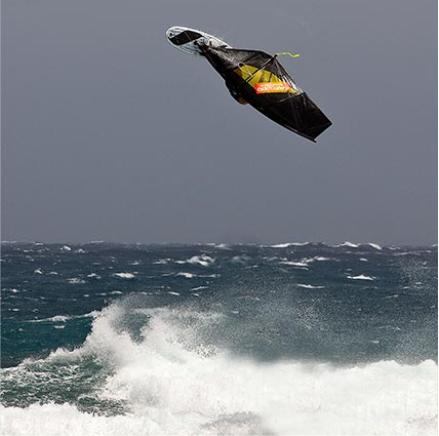 IT's all in the detail:
This new sail line from Point-7 has been developed and tested by Point-7 Riders Adam Lewis (K-516 ) and Nicolas Akgazciyan (F-400). The SWAG is based on nothing more than 1-2-3 battens only! The outline is kept high-aspect resulting in a very stable and versatile sail body with shorter boom lengths. Power, agility and an ultra light overall weight are the main features of this new 2013 Swagger, making it your new best friend when playing in the waves or throwing moves out on the freestyle shooting range!
• Ultra lightweight 3-batten construction. High aspect outline delivering a light feeling and powerful experience whilst keeping stability and balance in a wide windrange.
• Three radial 'twist control' panels binding the sail giving a homogeneous feel and response from the rig under load.
• The lower panel of the sail features hidden stitches, never hindering the structure of the sail as it is dragged across the rough non-skid surface of a board.
• Full X-Ply construction for durability.
• A heavy duty, stainless steel, 3-roller downhaul pulley for effortless rigging.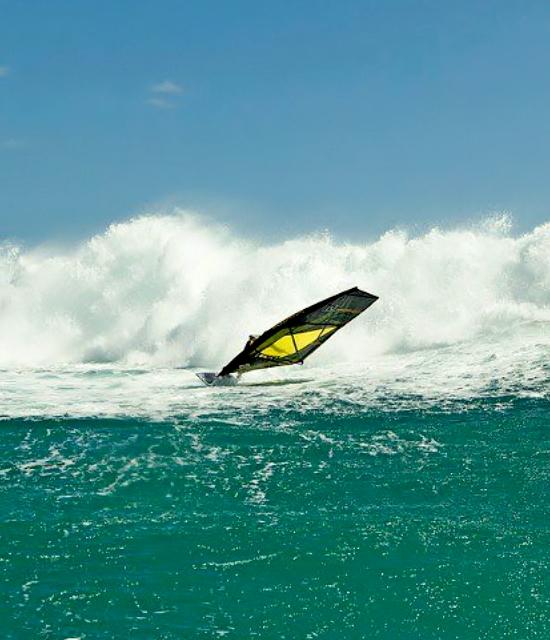 Tuning: It's simple! Once you have inserted mast the main points to look at for correct tunning are the following: Downhaul tension and batten tension. Outhaul tension you can vary according to wind strength.
Downhaul Tension: When applying downhaul, you notice the sail material between batten 1 and 2 from the top, gets loose. A horizontal 'u' shape will form from the loose material. The 'U' will have to be loose until the front end of the mini batten. Do not downhaul beyond this point. Minimal downhaul is therefore needed! The battens have to reach to the centre of the mast diameter. No need to look at other areas to check the correct downhaul setting. If you follow the specs given on the sail, with a Point-7 extension you will get it to the right trim immediately.
Batten settings: Put good tension till you will see the profile on top and bottom batten. The central batten needs just enough tension to remove wrinkles. Don't over tension.
Outhaul settings: Keep the outhaul positive 2cm in light wind and add up to 4cm in stronger conditions.