---
Nexus 103RE Elite Racing Compass
103RE- very Special price!!
The Elite is the ultimate racing compass designed forLaser® and other dinghies.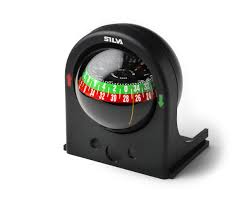 This compass is the same as the 103 RE but has the double scale, divided into a green starboard and a red port scale, allows sailors to read the actual course on port and starboard tack from the helmsman's normal position at the rail. You no longer have to add 45° to your reading.
The green and red memory arrows tell you to tack if the figures decreases on starboard tack and to tack if the figures increase on port. The top scale allows you to read the course on downwind or to check the start line position.
Weight
Temp. range operation
Temp. range storage
Illumination
Compensator
Accuracy
Apparent card diameter
Card type
Card graduation
Lubberlines
Heeling angle
Gimbaled cradle
Mounting
Mounting angle

909 gr
-10°C to +70°C. 14°F to 158°F
-30°C to +80°C. -22°F to 176°F
Optional (Art. No. 34482)
Optional (Art. No. 34472)
±0,5°
100 mm. 3.9 inc
Cone
Edge: Racing. Top: every 5°
Center (front and back) side view at 45°
Roll: 30°. Pitch: 30°
No
Flush
-10° to +110°
See Hints & Tips Article on winning using a compass
This model is for the Southern hemisphere.