---
Nautix Slalom Boom 185-235
NAU520152
NX - JUMBO Boom Slalom
The best boom for over 80kg riders. Very rigid and high resistant, the NX - Jumbo is cheapest alternative to a carbon boom.
There are two types of the JUMBO Boom available:
Slalom - Large tube curve for a better control. Delivered with three puleys on the back end. 185 - 235 cm
Formula - Delivered with wide back end and pro clam cleat system. Wide back end, very stiff high modulus aluminium is designed for Formula Experience. The Best! 220 - 270 cm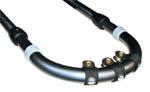 TMP System:
TMP - Total Mast Protection - system allows a better distribution of compression and better link boom/mast to improve control and stiffness. Your mast is protected!
Note: This listing is for the Slalom Boom, look below for the Formula Boom