---
Gul Response 4/3 Mens BACK ZIP!
RE1246
RESPONSE 4/3MM BS WETSUIT
GUL's best selling suit! The Response range is long lasting, durable and flexible.
The perfect combination of value for money and performance.
Constructed with glued and blindstitched seams and 100% super stretch neoprene giving you ultimate freedom.
The Response wetsuit meets all the requirements for the all-round watersports enthusiast.
OVERVIEW


REVO FIT: 3D pattern technology


BLINDSTITCHED: seam construction-


FLEX MK2: 150% textured super stretch over arms •


X-FLEX: 150% super stretch main body


THERMOSPAN: core central heating system.


G-TAPE: Inner waterproof


X-Flex taping fuses seams together for additional reinforcement


MESH: chest & back to prevent wind chill


POWERTEX4: knees for flexibility & durability


TITANIUM 2: reflects heat back in


S-LOCK: easy entry back zip system


PK BLACKOUT: waterproof zip • Non-petroleum based neoprene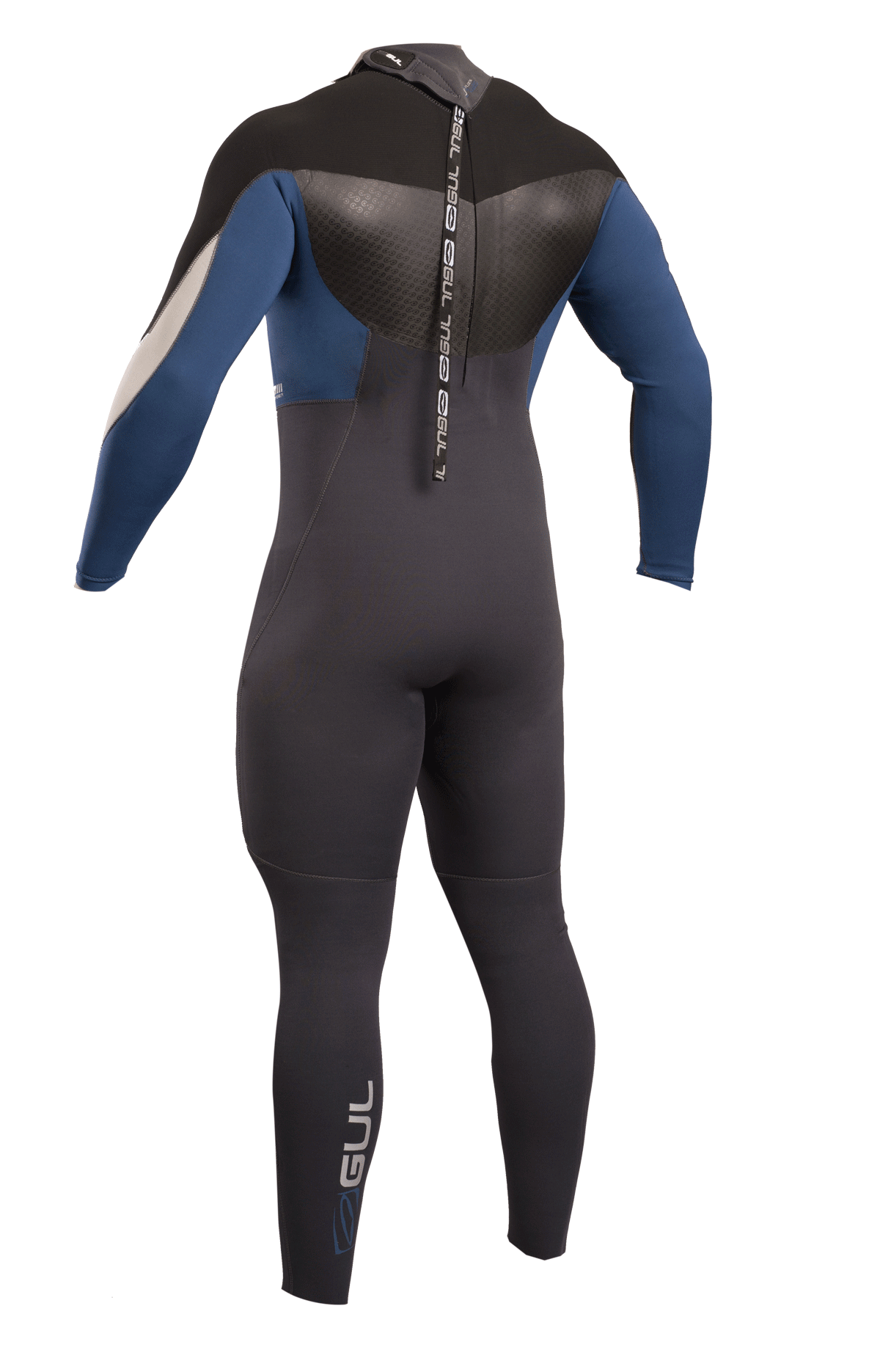 BLINDSTITCH
Panels are double glued and then butted together followed by stitching that does not penetrate all the way through the neoprene. Inside the wetsuit, heat welded tape goes over the seams in high stress areas, this further strengthens the seams.
X-FLEX
150% stretch neoprene is used in our high performance wetsuits. The latest X-FLEX neoprene is 10% lighter, absorbs less water and has a softer, more comfortable feel.
RS-FLEX-MK2
RS Flex MK2 is the latest evolution of RS Flex neoprene! Now with over 150% + stretch the Ripstop is 10% lighter, the tighter weaved textile provides less water absorption, better durability, and maximum stretch.
POWERTEX
Four way stretch high specification knee panels designed to resist the most harsh elements while providing maximum flexion and extension of the knee.
TITANIUM 2
Used in the main body panels of most of our wetsuits. T2 Neoprene acts in a similar way to a survival blanket, and reflects body heat back to the body.
MESH
Optimum core wind chill protection by absorbing solar heat and reducing evaporative cooling.