---
Flysurfer Mojo Pure Edition
FLY FKMJPURE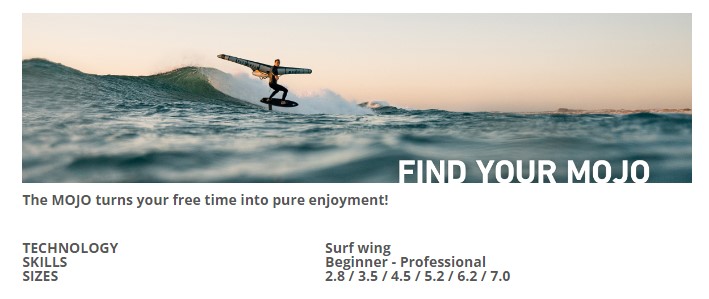 The MOJO is a highly efficient wing that is optimized to maximize your water time. You can expect easy control, great performance, and the finest balance in the hover state. The MOJO brings you into the line-up as quickly as possible and gets you down the line with ease. Due to its outline, it constantly generates propulsion and relieves the pressure on your body. To get you home safely during long sessions or when the wind is increasing, you can save energy with the Extra Handles. The MOJO's tubes, inflated separately, give the wing its high rigidity. You will control every gust with ease and use it directly for massive air.
We are really convinced that we have built the most versatile surf wing that will delight everyone from the youngest to the most skilled surfer. Go out, have fun, and find your MOJO!
The MOJO Pure is down to the necessities! Its unique shape underlines its powerful character in a streamlined look. By eliminating the extra handles and viewing windows, we reduce the weight and increase the balance of the product. Ride the purest form of the MOJO effortlessly and efficiently. It is perfect for riders looking for a powerful freeride wing that takes them to the next level.

RIGID CONSTRUCTION
A wing's stiffness is crucial to its performance.
The MOJO's two free-flow valves, on the strut and leading-edge, keep the air chambers more rigid because they are separate.
The diameters are tuned so the shape and profile do not buckle, and maximum performance can be called up at any time.
There is also no hose to accidentally pull on to ruin a session and cause an emergency.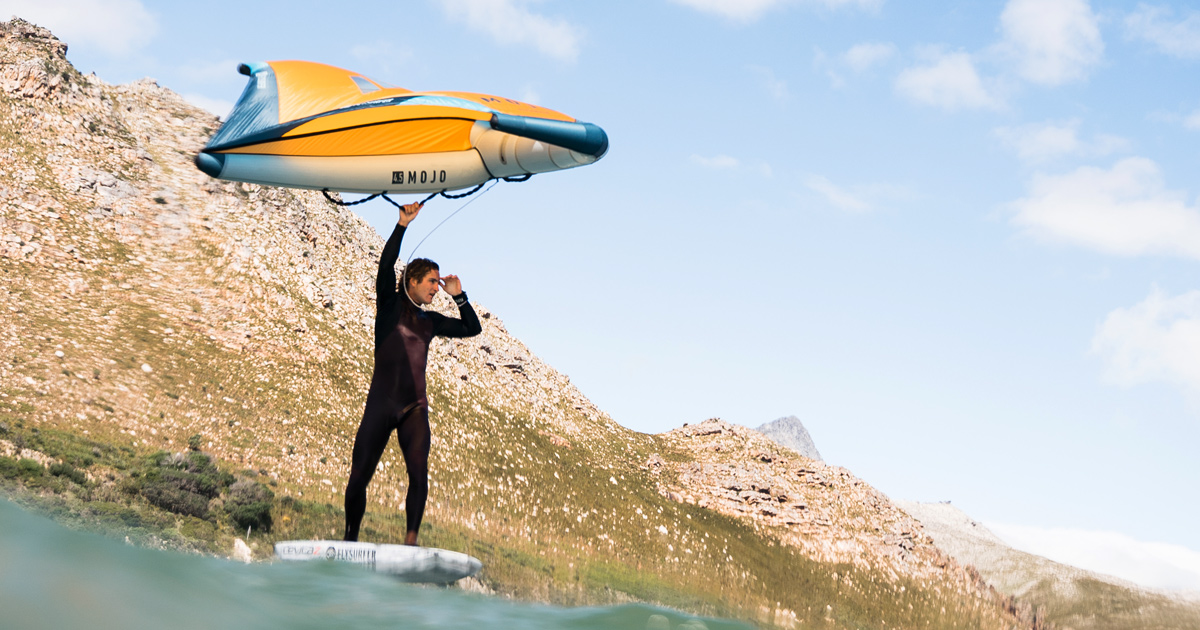 BALANCED CENTER OF GRAVITY
The basic shape of the MOJO pins the center of pressure (lift) further forward and moves minimally compared to other products.
The pressure/force distribution is always homogeneous, even if the handle position or the angle of attack change significantly.
Constant traction is generated by the wing, sparing the legs from having to transfer power to the hydrofoil.
The wing powers/depowers very effectively and runs effortlessly upwind.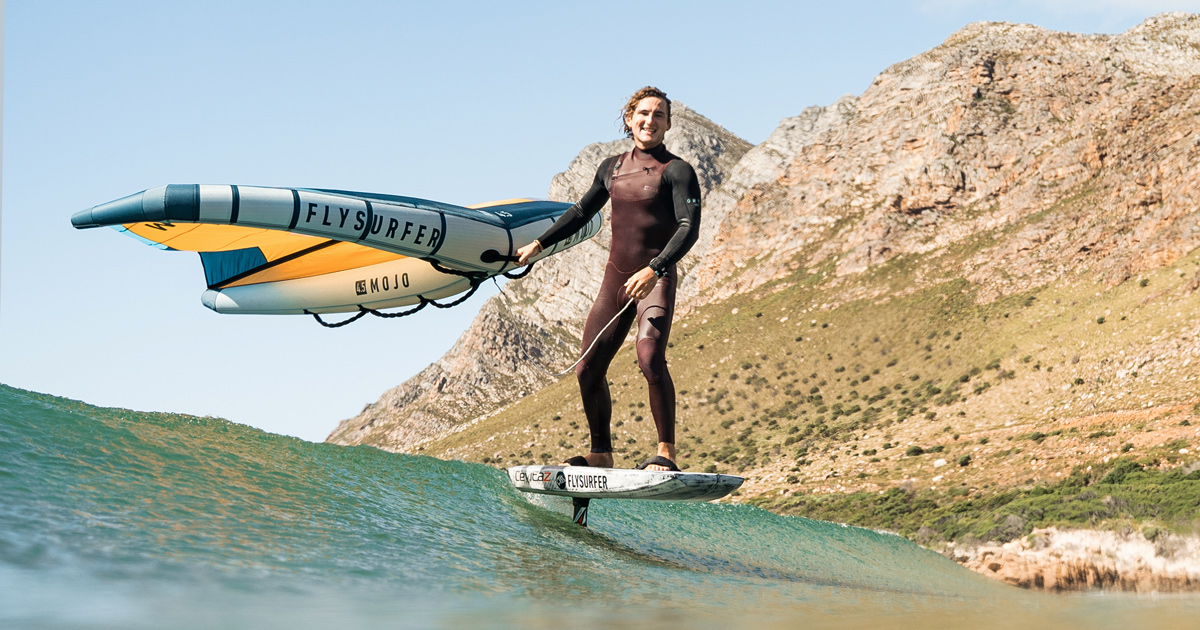 SELF-STABILIZING DRIFT
The V-shape of the MOJO provides positive lateral stability, eliminating the rolling effect. It makes wave riding a real pleasure.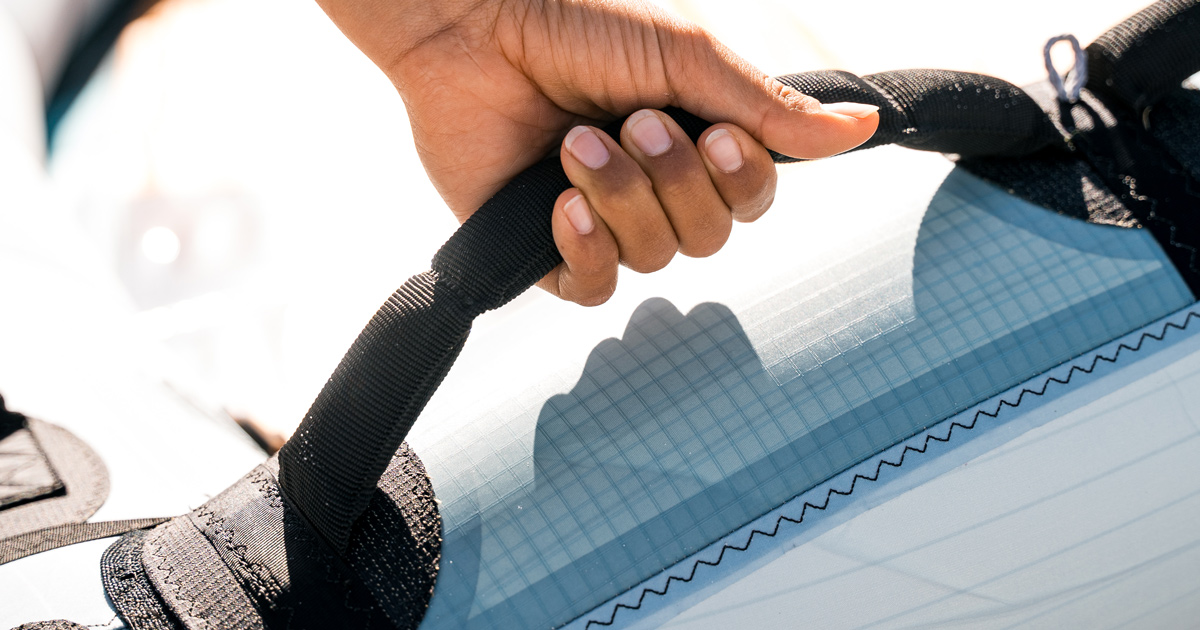 NON-SLIP HANDLES
The handles feature deep ribs and an oval shape to maximize grip and improve control of the wing.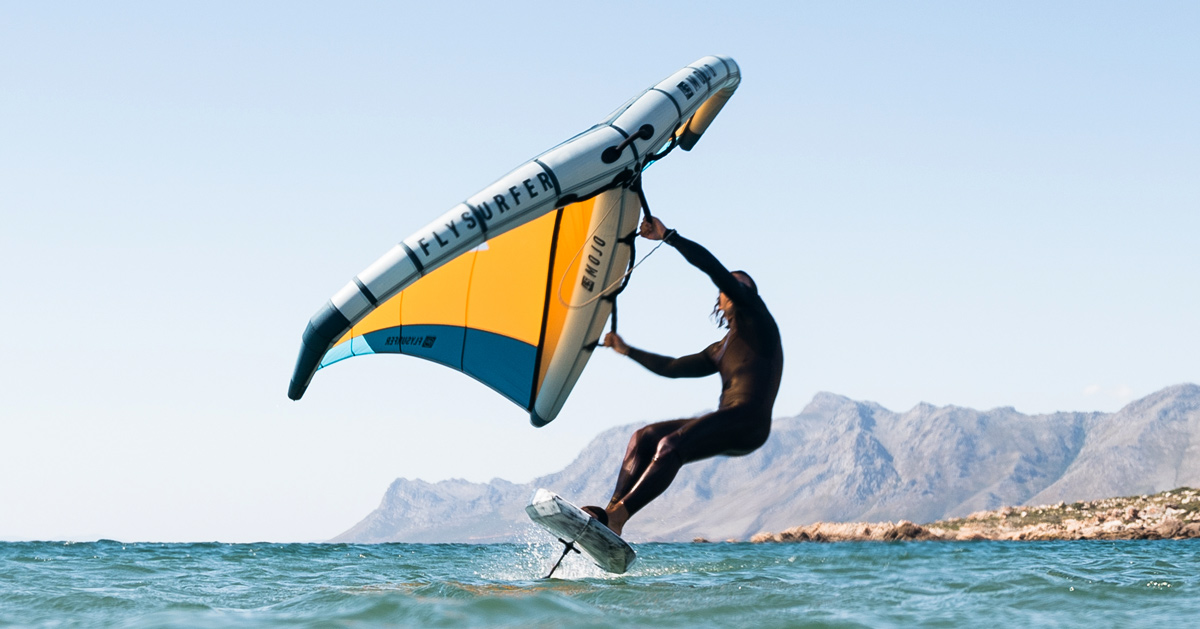 PROFILE SUPPORT
The fabric wall between the strut and the upper sail regulates the tension in the sail. The power is not lost when pumping and is converted into propulsion.
The profile support works like a tail unit for self-stabilization in the hover state.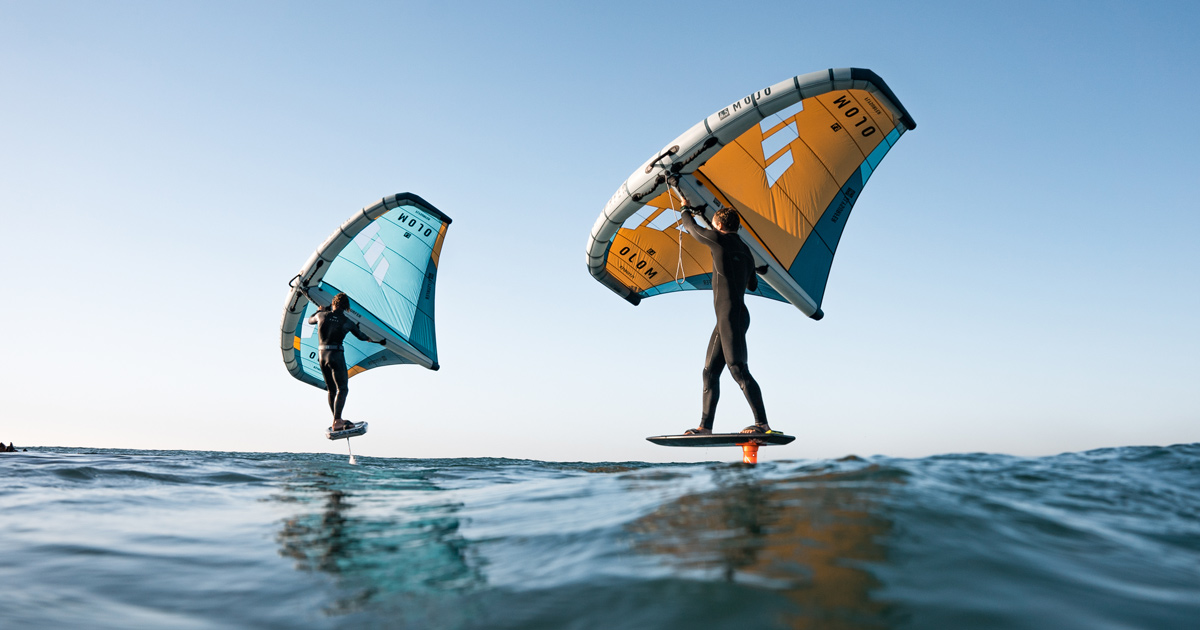 SUPERB WIND RANGE
The sail tension gives the MOJO its functional profile. The wing's power is accessible and can be easily controlled in stronger wind.
Handling is exceptional not only in the sweet spot but also when pushing the limits.
SCOPE OF DELIVERY
MOJO Surf-Wing
Universal bag
MOJO Waist Strap
MOJO Leash
MOJO Arm Strap
Wing Safety Guide
Repair Kit
SIZE CHART

WIND RANGE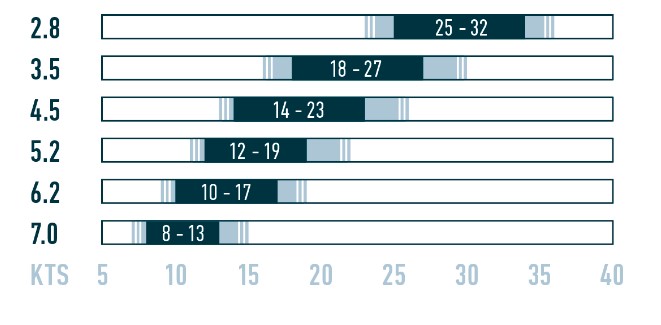 TECHNICAL DATA