---
Exocet Fish 8'11 x 30"
Fish 8'11 x 30"
RRP IS $3500 for the carbon, $2300 for the Bamboo model and $1800 for the AST
So buy now at our fantastic price
Dedicated for surf, the FISH line has amazing flotation ability combined with a thin rail. Exocet have managed to integrate a flat deck into a tiny concave under the front foot for stability and the deck plan has been pushed as much to each side as possible. From there they have integrated the rail in such a way as to make it as thin as possible. The FISH will surprise you as much by its flotation as by its ability to turn on a dime.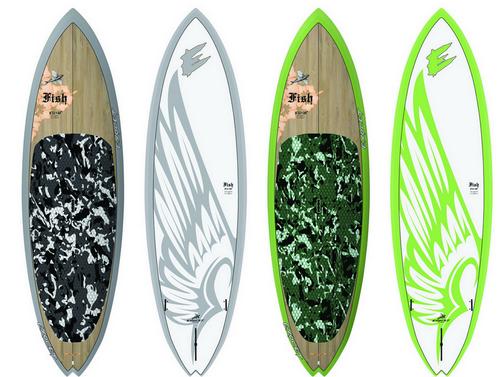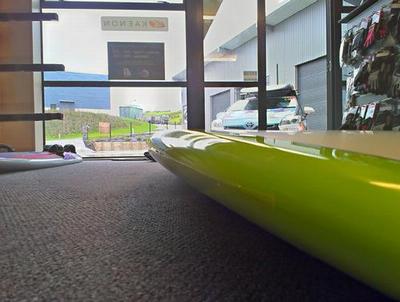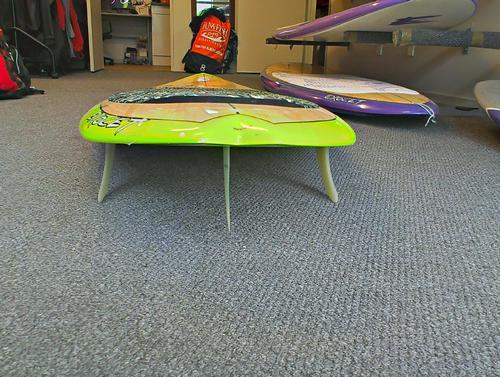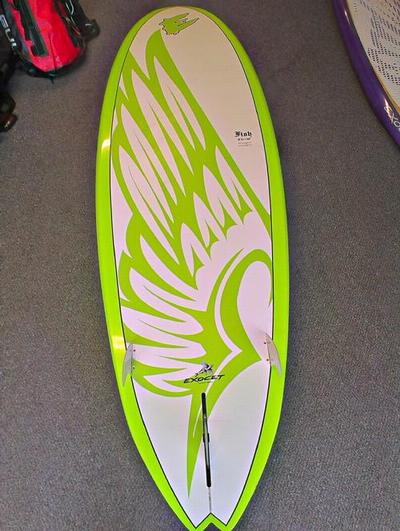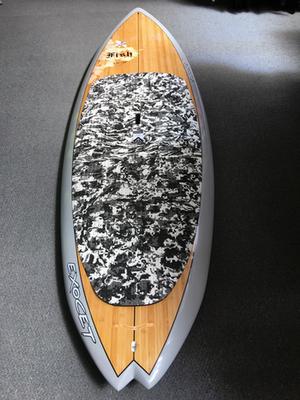 SPECIFICATIONS:

FISH 8'11" X 30"
Volume: 125 litres
Length: 272 cm / 8'11"
Width: 76.2 cm / 30"
Bamboo Weight: 8.5 kg (+/-6%)
Carbon Weight: 7.3kg
AST Weight: 8.7 kg (+/-6%)
Center Fin: 12.5 cm US box
Side Fin: 2 x FCS 11.9cm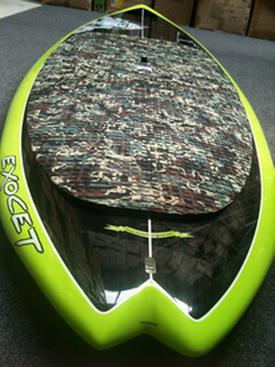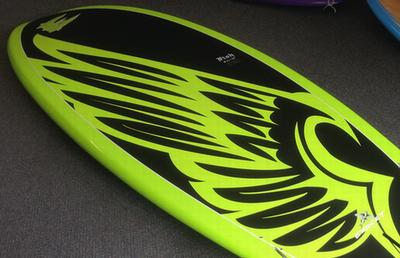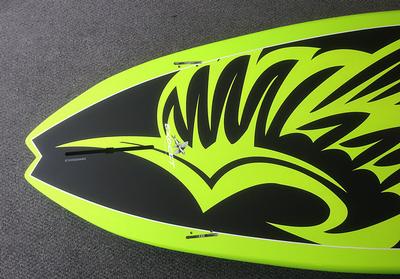 Carbon Fish underneath & tail
Great for taking in the surf or if there is too much wind to paddle, then Windsurf. Use the drop down menu at the bottom of the page to see the different construction methods, colours and prices.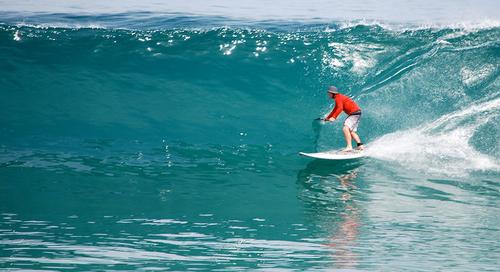 Client coments below:
"The guy I was telling you about (Ben Nettles) paddled the 8'11 (henceforth called "The Fish") today and is frothing at the mouth for one. He was catching these little knee to thigh-high waves and working the Fish up and down them like it was a surfboard! He said to tell you he is 'definitely' Team Exocet and wants to know when he can buy one. He's selling his Corban ASAP! I told him we had some coming for the OR show in Utah and maybe he could get one of those when we get back. Ben is a bigger guy but said that Fish is more stable than his 9'2 Corban... "Cool beans" and thought you would like to know that it's looking like you have a real WINNER on your hands."
Review: I was able to get out on the 30" wide 8'11 as the wind (FINALLY) let up enough for the waves to line up a bit. Conditions were 'waist to rib' and wind was SSE at around 15mph but I was up near the rocks at the North Jetty...
> Flotation: No problem for this 185 pound paddler; I think I may have fallen in once and the conditions were anything but perfect.
> Paddling: Yaws from 'side to side' quite a bit, but that's to be expected with ANY sub-nine footer.
> Catching Waves: No problem at all; caught just about everything I paddled for.
> Manoeuvrability: Oh my God! This board is AMAZING! The best way to describe it: is that it's an extension of YOU; you think it and it does it...
> Speed: Though the waves were not big, I was able to generate plenty of speed to make sections (but larger surf will be required to really make a qualified judgment.
All in all, I love this board and can't wait to get it into some larger, cleaner surf... Job well done guys... Paddle on, JD
Below is a link for the matching board bag for this board (We recommend MIX - XL).