---
Axis ART 999mm Carbon Front Wing
AX22ART999
The new ART999 looks and feels like nothing else. On the water this wing blows your mind! The ART999 sits at the forefront of wing design and development, pushing the boundaries of what's possible for a foil. The incredible speed and glide of this wing, coupled with effortless pump and efficiency, enables you to ride the smallest lump way further outside the surf zone than ever before. What separates this wing from the pack is how well it turns, rolling effortlessly between turns comparable to a surf wing. Despite these high-performance features of the ART999, it is a surprisingly user friendly wing. The stall speed is incomparably low, giving even advanced beginner to intermediate riders an accessible platform for learning to pump and rapid progression.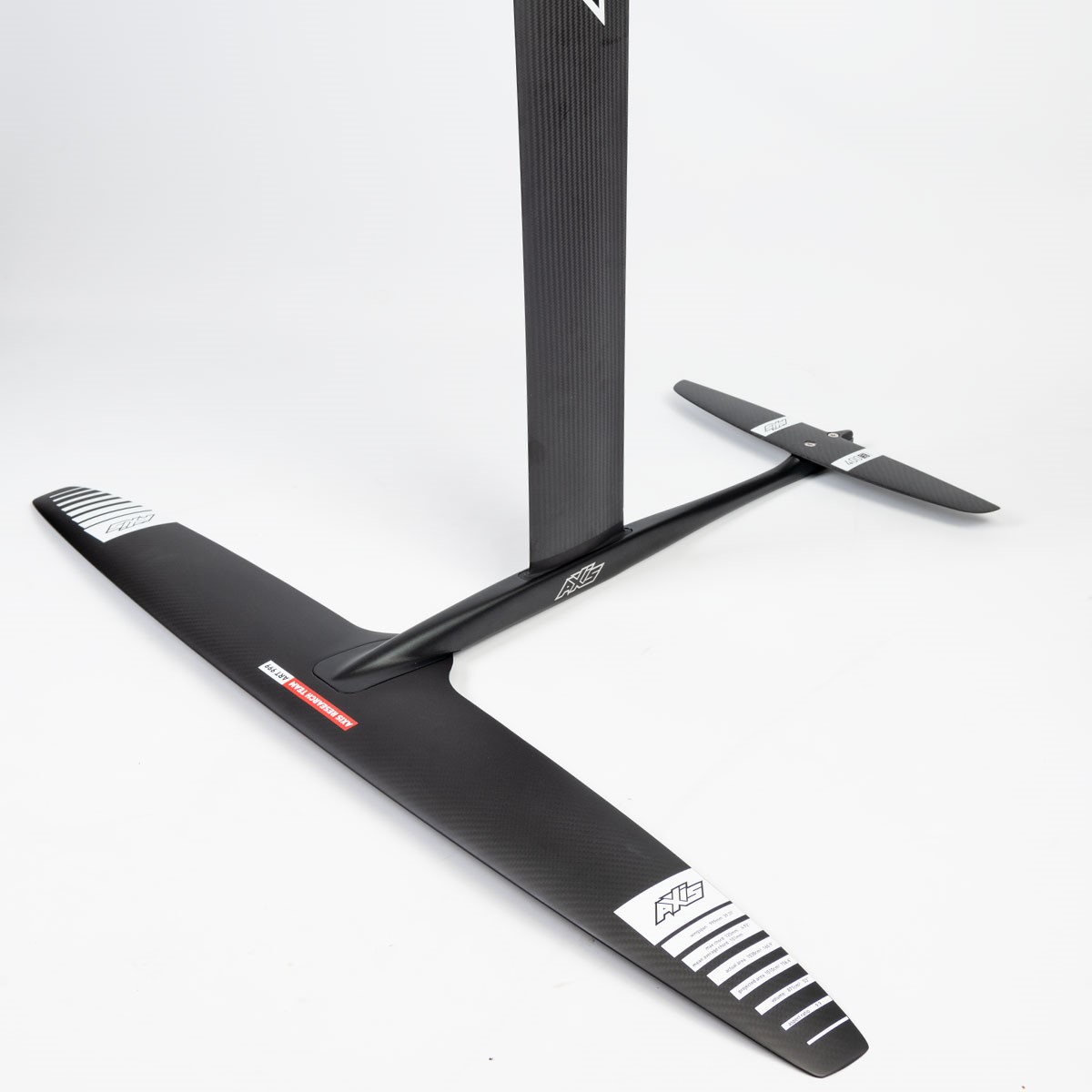 The team here at AXIS are extremely excited to see how this very responsive, nimble yet confidently precise and planted wing takes the down-winding, winging, wind foiling and smaller surf markets by storm.
Thoroughly tested and approved after several rounds of refinement, these reduced chord, high aspect wings are the most advanced, hydrodynamically efficient foil design on the market today. When combined with an AXIS Carbon mast and AXIS Progressive rear wings, they provide the ultimate friction free ride.
Comes with a protective cover
A Kiwi Wing Foilers Review of the Axis ART 999 front foil
This is likely the first of a new family of foils by Axis – who will it suit and why?
I bought my Axis ART 999 in time to foil with it from the change down to Level 3 in Auckland. Since then I have been out every day bar one (always at Orewa Beach) and of those sessions, all but three have been on the 999.
Why not every session?
The 999 is not what I would call a light wind foil. For light wind winging I use the 1300 and the 1150 in that order of preference, both from the Pump and Glide series (both about 1700 square cm). Why – because I can pump up onto foil in somewhere between 7-8 knots of wind. When up and foiling I can go the length of Orewa beach in just 4-5 knots by pumping wing and foil. I can't do this with the 999.
Once the gusts (since Level 3 we have only had off-shores, so it has been gusty) start to reach 13-15 knots I have much preferred to use the 999. Why?
IT IS FAST. By which I mean with my weight (76kg) I often average only 15 kph on the 1300 or 1150 PNG with top speeds around 22 kph but I average over 20 kph on the 999 with top speed so far of 32kph. Note I have plenty of choice of hand wing sizes and I am not particularly into speed for speeds sake so it is the relative difference that counts. The speed of the 999 is partly due to its diminutive 1000 square cm area which of course directly bears on the minimum take off speed.
IT IS MANEUVERABLE. You will have seen videos of foil surfers doing tight turns on the 999, it turns tighter than you would expect for a meter span foil.
IT PUMPS WITH REMARKABLE EFFICIENCY - once you have speed.
IT HAS TREMENDOUS GLIDE – once you have speed. But, I can't pump it onto foil - unlike the Pump and Glide foils. This is due to its aspect ratio, its "airfoil section", especially the small leading edge nose diameter and its area. Instead, to get it on foil I wait for a gust, sheet in and keep the board almost level (slightly nose up, but not much) and there is a magic whoosh and it accelerates onto foil pretty much flat. The boards I have been using since lock down level change are a 95 Litre, 5'2" and a nominal floater on a few days - a 75 Litre 4'5".
IT HAS TREMENDOUS LOW SPEED CAPABILITY - once foiling! This is due to its aspect ratio of just under 10. It means it can "hang on" to provide lift at low speed (high angle of attack) with relatively low drag. This gives an amazing flexibility when on waves, doing maneuvers etc.
Conversely every time I try and encourage the 999's take off with pumps to the board I interfere with the optimum angle for take off and I end up making things worse not better. I would describe myself as an advanced intermediate wing foiler. On a side note the 999 gives less static stability to the board when you initially stand up compared to a larger foil – just as you would expect and this is another factor to take into account if the wind is light and patchy. My wife kindly tries not to show she is laughing at me as she foils off in marginal conditions as I wobble about waiting for a gust! (But I soon catch her up).
So who does it suit?
Not a beginner but an intermediate or better winger. If you live outside Hawaii it won't work as your only foil – but it may easily be the only other foil you need if you have something for light winds. I have tried it with the following rear foils and these are my impressions:
Axis 420 – stable and very well balanced in pitch, roll and yaw. In a word - easy.
Axis 380 – less stable, faster, more maneuverable. My guess is its the perfect compliment to the 999.
Axis 380 with 1 degree shim (sets leading edge of rear foil up providing less stability and more speed).
As slippery as an eel! In a good way - more challenging. A setting I might grow into but I feel in no hurry to do so. Most won't bother.